Chairman M. S. Punchenko

How appropriate.

Commissar_Elliott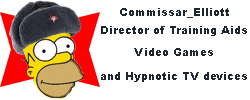 (off)
As thin as his integrity.


Komrade Zarkof
Just another poster child for George Soros and ACORN.

Commissarka Pinkie

And the hardhitting journalists from CBS were right there to bring you the latest on this important story:
CBS Early Show Hosts Excited by Obama Paper Dolls
Quote:
On Thursday's CBS Early Show, co-host Julie Chen made an important news announcement: "Well, the latest Obama paper dolls are out and we have got them right here to check them out."

. . .

Chen later asked: "Do we think that this looks like Barack and Michelle?" Co-host Maggie Rodriguez responded: "Absolutely not. Not even a little bit." Early Show medical correspondent Jennifer Ashton was also on set, and chimed in: "No, he [Obama] looks so much better in person." Rodriguez then added: "Not even a little bit, it's not their faces. Those are not their faces." Chen explained: "It's more Michelle than -- it's not Barack's face, but it's more Michelle. Because I think they have her eyebrows down."

After a detailed discussion of the dolls' likeness to the Obamas, co-host Harry Smith proudly exclaimed: "Well, I'm very excited to get my collectible campaign edition, so."

I'm surprised they didn't go into or show what the dolls themselves looked like without the tabbed paper outfits to fold over them. Does he wear boxers or briefs? Does she wear contour, soft cup, or underwire?
Why don't we know these things yet?

Comrade Lysenko
This is outdated propaganda, comrades. The Communist Broadcasting Sycophants have moved onto much more important topics, as of late. They are currently debating whether it's an insult to merely call Obama a
super hero
versus a god.

Red Rooster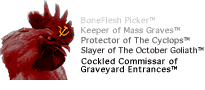 No matter if this is old or new comrade, we can release it again for Christmas Kwanza Winter Solstice and tell the proles it's new and run the same story. After 12 hours with their People's Cube they won't know the difference.

On the Christmas Kwanza Winter Solstice model we can give the options of two other paper outfits: A Robe, Cross, and Crown of Thorns -or- A Captain Obama outfit.

And the Commissarka is right, it definitely needs to be a stripped down paper doll for massive amounts of slobbering.

Maybe we should include some pancakes and a Unicorn and Pink Dolphin?


Comrade Lysenko
Yes, Pecan!
From uppity reactionary kulak Jim Treacher's post
Obama Snacked, Iranians Got Whacked
Quote:
In honor of Obama's commanding leadership, Ben & Jerry's has announced 6 delicious new flavors: Truncheon Crunch, Ayatollhouse Cookie Dough, Lemon Loin-Gird, Ineffectual Fudge, Let Them Eat Cake Batter, and Toffeetalitarianism.