Red Square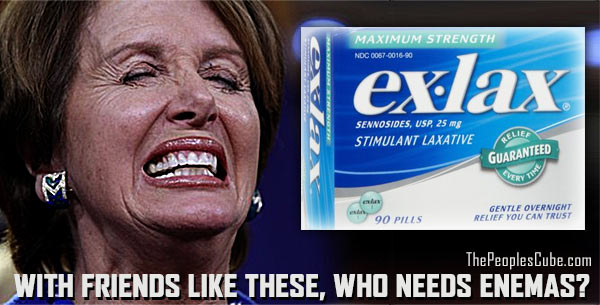 House Minority Leader Rep. Nancy Pelosi (D-CA) holds her regular weekly press briefing and displays an exemplary lack of knowledge of the constitution - because, comrades, she is too good for something that belongs in the toilet.
PELOSI: 'IS IT THE 11TH AMENDMENT? 14TH? WHATEVER... I'M WITH THE CONSTITUTION'

Captain Craptek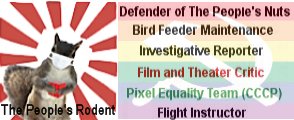 Comrade Red, I believe the lovely Peloski's obvious pain arises from the sterling silver napkin rings attached to her earlobes by some fiendish prankster in the cloakroom. Exlax, I'm afraid, is not the answer. It would tend to empty her of ALL content and therefore of any further use to the Party.™


R.O.C.K. in the USSA

uuuuuuuuuuuunnh, good job Comrade Square! I tried to think of something to do with that exquisite photo and, alas, came up short (probably due to my non-union status).

Also - just what IS this "constitution", anyway? It's finally becoming clear, after all these years of hearing people talk about their "morning constitutional"...


Proletarian Robot

Comrade R.O.C.K. Yes is seems that Comrade Peloski has sure been "straining" a lot as the congressional minority leader........


R.O.C.K. in the USSA

Dear Comrade Robot - it's because she still has the Gavel.


Proletarian Robot

Comrade R.o.C.K. Is blowing out an O-ring covered by the more than equal Congressional health care plan??


R.O.C.K. in the USSA

You must remember, Comrade Robot, that the fully more equal Congressional health care plan is NOT ObamaCare. I'm sure that it covers everything from O-ring blowouts to - in Comrade Pelosi's case - unlimited botox treatments and eventual embalming when the botox just isn't enough any more.


Comrade Andelino

...looks like Pelosi is straining for some "constipation" with understanding the "constitution"...


Expel The Red States
I understand she had 'read' the ObamaKare law. Perhaps on audible.com while asleep.