Raum Emmanual Goldstein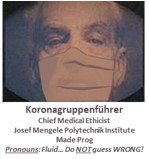 KAMALARADES!!!
WE ARE RAPIDLY APPROACHING THE GLORIOUS WORLD OF NEXT TUESDAY!


It is with rapturous pleasure -- bordering on the sadistic -- that I share with you that the Pennsylvania State University's student government, the University Park Undergraduate Association (UPUA), is establishing a Ministry of Love on their Campus to assist ThoughtKriminals HateKriminals
TM
in overcome their mental illness.
https://www.campusreform.org/?id=15438& ... HiKU70cBWY


I have it on good authority that a windowless hall located on the campus has been designated to host the Struggle Sessions "guided discussions" -- and that there is a particular room located within the bowels of this imposing structure labeled "ROOM 101." There are rumours that the UPUA has acquired abused laboratory rats from the Psych and Science Departments to aid the most recalcitrant participants in coming to their senses.


The MiniLuv's first Victim HateTerrorist
TM
is likely to be Penn State College ReThugliKKKans Treasurer, Michael Hunter, who told enemy spies at Campus Reform that he is against the new requirements.


"I am personally against anti-bias training, as studies have shown that it is ineffective in changing the opinions of the trainees," Hunter said.
Of course, Herr Hunter does not bother to cite the sources for these alleged "studies," but then again, he does not, yet, grasp the concept that

Facts

are what the Party

SAYS

they are. But of course, a lengthy session in ROOM 101 will convince him on a very deep, subconscious level that our methods are quite effective.


But of course, Herr Hunter dared speak out against the network of informants the Penn Statzi are establishing to root out ThoughtKriminals HateKriminals
TM.
I am looking forward to my adjunct role at the lovely Penn State this fall.


Always remember, What can be imagined -- no matter how horrific -- can be achieved!
VORWÄRTS GEHEN!!!

Genosse Dummkopf

A highly credible source tells me that Room 237 is likewise, perhaps even better suited for paranormal treatment of.. , well.. , ...deviations.
(Further, 237 appears in Pi starting at #457, way before even(!) Feynman Point (for details please consult Mystery 1
here
). So, you see its supreme rank.)
(Btw, 101 has (only!) rank #853, which is quite behind Feynman's thing (rank #763)).
So, do they have
a 237 there, at PSU?