Pamalinsky

Vrag Naroda
Spasibo, comrade!
Right back atcha, Baby! Kudos!

Pamalinsky

TheLastCapitalist
I don't care what they call it, as long as BO is played by Tom Hanks in black face
Gigglishish, Comrade! Giggle, giggle, giggle! ;•)

Arby Justice Wilder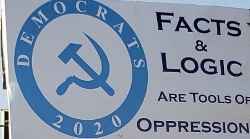 THEFT OF CHANGE
or How I Robbed America


Kelly Ivanovna/келя ивановна
Commissarka Pinkie
Yes, even for all you proles on Facebook. You may now go back to swinging shovels and stealing each other's vodka over in Gulagville.
And if you were an evil kapitalist, you could start a Gulagville in Facebook and everyone would scramble to get their own camp!!!!

(it is a heck of a good idea. Collecting zeks to build a train track in Norillag sounds a lot more fun to me than planting flowers.)

Kelly Ivanovna/келя ивановна
Sigh, another reason I regret my brief--or what I thought was brief---hiatus from the cube. Maybe I can bump this up a little bit.
When Barry met Saul(y)
Car Wars: the Bailout Strikes Back!
The Last King of Kenya (presupposing Barry was born in Hawaii. If he was really born in Kenya, this should be the First King of America). Tagline: Charming, Magnetic, Socialist.
And, from the motherland:
_______________________________________
The Unions: The Business of Getting Bribes
Oh Reagan, Where Art Thou?
No Country for Rich Men
Broke Mountain
The Eternal Idiocy of the Empty Mind
(it's as far as you'll get inside the White House if you want to meet the President....and you're an Israeli official)
The Adventures of the Sherrif of Nottingham (he steals from the taxpayers, and gives to the elite!)
Au Revoir, les "Good Jobs"
Back to the Future. "He saw it, then he ran away."
Bringing up Baby Who's 34 Now And Has No Job And Is Eating Us Out Of Home But Who Has Insurance
The Cabinet of Dr. Kevorkian--who knew the key to saving humanity, was to kill it?

The Red Terror