Red Rooster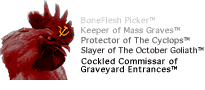 I denounce Cable and Satellite TV watchers! We have PeoplesSpacePort Socialist internet only, which provides proles with a glorious FAP (Fair Access Policy) that gives you your ration of bandwidth each day and no more for a very high kapitalist pig price. When your bandwidth runs out you get FAP'ed, which means you pay a penalty and for the next 24 hours your internet is slower than 12kbps if it woks at all.

But late at night is FAP free time, so now you know my evil scheduling kunundrum. (and that I can't spell or type worth a darn)


Leninka

Comrade RR,

I see. You are relegated to a remote gulag in Siberia, no less. Never fear, Comrade Hope and Change is on the way.

And:

There is big news! Take yourself to the top of the People's Blog immediately! Bruno has retrieved the crown. Find out how he did it!


Red Rooster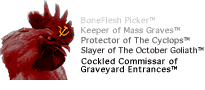 Yes, Siberia, Comrade... Excellent! I shall read about Bruno's adventure, but first after watching Comrade Red Square's video finally, I have an answer...




AbecedariusRex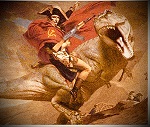 Red Rooster
I denounce Cable and Satellite TV watchers! We have PeoplesSpacePort Socialist internet only, which provides proles with a glorious FAP (Fair Access Policy) that gives you your ration of bandwidth each day and no more for a very high kapitalist pig price. When your bandwidth runs out you get FAP'ed, which means you pay a penalty and for the next 24 hours your internet is slower than 12kbps if it woks at all.

But late at night is FAP free time, so now you know my evil scheduling kunundrum. (and that I can't spell or type worth a darn)
I have a three hamster computer and only have to replace the hamster wheel twice in a month! Those little suckers can really generate a great deal of memory. I recommend it.

Father Prog Theocritus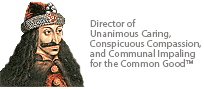 Make sure that you use hamsters, RR; if you switch to gerbils then Bonnie Fwank will come to your house and cause complete system crashes.


Red Rooster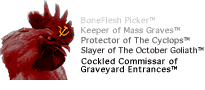 NOOOOOO! Not the hamsters and gerbils! Anything but the hamsters and gerbils!
In pondering the great origins of life and mythos of makhana, one question is pondered over and over again...
[left]
[/left]

AbecedariusRex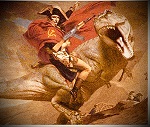 Would that character in the big hat be Gary ChickenCooper?


Father Prog Theocritus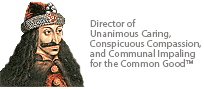 A chicken and an egg were lying in bed. The chicken, smoking a cigarette, said, "Well that answers one old question."