ThePeoplesComrade

ThePeoplesComrade, for crimes against humanity, fomenting discontent and organizing unauthorized protests against the State, has been tried and judged in need of cultural sensitivity enhancement. After numerous beatings, waterboardings and general scourging, he has confessed to all of the numerous heretofore's and whatever's and has been given a choice: one, a month in the Siberian sulphur mines or two, a month of humanitarian outreach. He has wisely chosen to join our Inuit Coffee Planting and Free Trade Initiative. Internet service is spotty at best in the frozen north, but being fully aware of his own self-importance, ThePeoplesComrade will attempt communicating by carrier seals.
It is hoped that, upon his return, we will see a more reasonable and conforming comrade or additional improvements and enhancements will be required.

Ivan Betinov

Just remember: Yellow Snow is not your friend.


KOOK

Comrade Peoples Comrade,
Don't forget to regularly attend
Coffee Parties
:
--KOOK

General Confusion

I trust this "northern comrade " was informed to be on his best burqa behavior.

major mistake: whatever that is, yes sir!


Krasnodar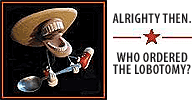 Comrade Peoples Comrade,
I hope that you brought
doughnuts
along with you. You are in
Canada
, you know.
The Inuit really like their glazed jellies.

Kelly Ivanovna/келя ивановна
Here's a little Canadian history for you. You know, it was earlier called the Central Northern Democracy but whenever someone asked one of them to spell it the answer was always "C eh? N eh? D eh?"


Krasnodar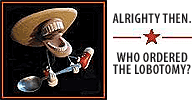 Being from the Southwest ( Arizona, not British Columbia....), I remember that
" The Great White North " was my first introduction to Molson Ice.

If that ain't significant, I don't know what is !