Red Square

NEW YORK - A 19-year-old PETA staffer has legally changed his name to KentuckyFriedCruelty.com.

Chris Garnett, youth outreach coordinator for the People for the Ethical Treatment of Animals, said he changed his name in support of the group's anti-KFC campaign.

"People don't believe me at first when I tell them my name, but it never fails to spark a discussion," Garnett, er, KentuckyFriedCruelty.com, said in a statement. "Many vow to boycott KFC after I explain the company's indifference to cruelty to animals."

Norfolk, Va.-based PETA's complaints against KFC stem from video footage shot last year recording alleged mistreatment of birds at a Pilgrim's Pride Corp. plant in Moorefield, W.Va. The plant is a KFC supplier.

Yum! Brands, the parent company of KFC, has disputed the claims of mistreatment. In June, a grand jury refused to indict former workers at the West Virginia chicken plant.

"Stacked" star Pamela Anderson, who has narrated a PETA video showing the alleged abuse, supports Garnett's name change.

"I'm sure Chris can't wait 'till KFC stops torturing chickens so he can change his name back," the actress said in a statement, adding that the chicken abuse "is awful and has to stop."
------------------------------
No comment. I just wish we also had as dedicated young men and women in our ranks as this one. Anyone wishes to change his/her/its name to ThePeoplesCube.com?
Suggestions on other fitting names are welcome.

Red Square

AMERICA TORTURES CHICKEN!
Chicken abuse is awful and has to stop!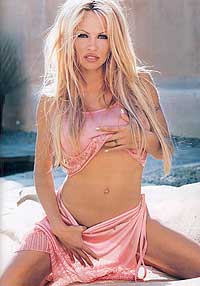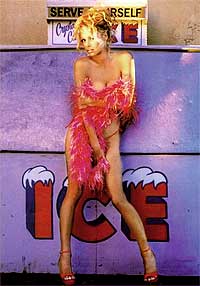 Stop it, you animal! If you don't stop I'm gonna pull this skirt even further down. You don't believe me? Just watch me!

Dr. W. S. Palimpsest

Just before the fall of Baghdad, one of my students changed his name to "Nobloodforoil." You wouldn't believe what happened when I called attendance the first few times afterwards; it was quite stirring. I would say, "Nobloodforoil," and, instead of receiving a simple "here", the whole class would shout back, "End the Illegal Occupation Now!" I would call Nobloodforoil's name a second time, and the students would cry, "Stop the Racist War!" Then, I would say, "Yes, I agree with you 100%, but I'm looking for Nobloodforoil; is he here?" To which the class would reply, "No Blood For Oil!" It turned into a veritable "Who's on First" skit. Fun times, those days; fun times.


GORKY!
The use of assumed names has always been party policy, as is name-calling the enemies of the people.

I am happy to see that Comrade Anderson use subtle innuendos and ironic self-deprication of her objectified sexuality in her struggle against the capitalists.

However, we must recognize that many a chicken has been flogged on her account.


Comrade Otis

The sad truth about chicken torture and cruelty is that most people acquire all their chicken knowledge from the ridiculous ideas about chickens and animals that the corporate commercial mass media shove down society's throat on a daily basis. So the masses really don't understand the oppression and alienation that our capitalist society thrives on.
To better your chicken awareness and rise above the false conciousness engendered by species hegemony and capitalism I urge all those who sincerely believe in social justice to watch the excellent documentary by Aardman productions: Chicken Run.
As any intellectually honest person can plainly see from this chilling photograph from the documentary Chicken Run, capitalism is a cruel task-master.
All right-thinking persons will be filled with rage at the crowded and inhuman living conditions foisted on our other-shaped brothers and sisters!
How can you let this continue? Won't you help? Please. Free the chickens!
"Chicken Run will open your eyes to the fact that chickens are people too."
Susan Sarandon
courageous social activist
"Our problems stem from our acceptance of this filthy, rotten system. Don't accept; rage, rage, rage and send Comrade Otis a generous donation."
Dorothy Day
founder of The Catholic Worker, noted Communist and spiritual mentor of many Christian Peacemaker Teams! members
"Nothing makes a person feel more liberated and morally clean than sending a generous donation to help free the chickens from species hegemony."
Comrade Otis
Send your donations to help free the chickens to Comrade Otis c/o The People's Cube.

Premier Betty

Quote:
Stop it, you animal! If you don't stop I'm gonna pull this skirt even further down. You don't believe me? Just watch me!

Okay!