Sugar Daddy Bear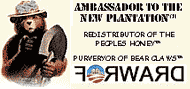 COMRADES:
It has been brought to my attention that one of our own,
Dan Treadway
, has written an
article
on the esteemed
HuffingandPuffington Post
, directing CONservatives and Rethuglikkkans who care not for the glorious ObamacareTAX™ to migrate and inhabit those 3rd World places only
we
have rights to whenever we wax politically expedient. This has caused me to ponder the motives of Mr. Treadway in writing such an article.
~
And here's why:


Mr. Treadway's capricious, and careless, suggesting of those ObamacareTAX™-haters to depart from the ensuing Obamaville Utopia™ will not fare well for those who we are demanding to pay their FAIR SHARE™. Suggesting such an exodus will imperil the poor, the huddled, the broken masses who we are trying to control take care of. What Mr. Treadway suggests goes against the spirit of FREE heatlcare for all by sending away those who we ultimately want to lay the entire burden on.


Mr. Treadway's clumsy article not only carries the stench of sending away the "Bad Guys", but suggests sending them to the very places that we use in our infomercials to FEED THE CHILDREN™! These are the very same places that for decades we have HOPED and WISHED for improvements upon, and in doing such is our morality and virtue in reconciling why we have no dirt under our fingernails, or a drop of sweat in discomfort. Imagine what a gaggle of "Bad Guys" can do to that image!


Mr. Treadway completely misses the point of who these people are. He's suggesting KAPITALISTS and ENTREPRENEURS to inhabit 3rd World countries that for decades have only been used for our caring photops! Doesn't he realize what, and who, he is suggesting to?! These are the SAME PEOPLE we rail against destroying Amerika! Allowing them to inhabit a 3rd World country is tantamount to having your door open to every rapist, pedophile, and thug that has a fancy! RAPE-PILLAGE-STEAL! Is this what Mr. Treadway is wishing on OUR 3rd World political concubines?
Mr. Treadway is a careless mountebank. His suggestions are worthy of at least a year in the Gulag™.
It is with [faux]sorrow I must
Über-Denounce
Mr. Treadway.

Opiate of the People