Opiate of the People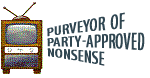 Good evening, I'm the world-famous Keith Olberbagger. Tonight we'll meet a woman we'll call Nancy. Several years ago, Nancy started a sting operation from her home in attempt to catch adults who prey upon under-age children over the internet. But in the course of her investigations, she discovered things going on that were much much worse than she ever imagined.
We filmed Nancy while she conducted one of her internet stings. She entered an online chat room and adopted a personna called Tina, a 16 year old high school junior from Nutly, NJ. Almost as soon as she entered the chat room, she was set upon by a disgusting predator, a scumbag who called himself Glenn. Here is the transcript of the online session....
[TINA HAS JUST JOINED THE ONLINE CONVERSATION]
TINA:
Hi everybody, I'm Tina from Nutly, NJ
GLENN:
Hi, Tina, what are you in to?
TINA:
Well, I'm 16 and a political independent, I lean left-of-center but I'm not hardcore about it. I'm basically undecided.
GLENN:
Ever try anything right of center?
TINA:
Noooooo, isn't that like.... a bit icky?
GLENN:
No, lots of people go that way. They don't talk about it in public, I mean, it's kinda looked down upon officially, kinda like smoking... tobacco smoking.... but they do it privately and don't tell anybody about it.
TINA:
Ummmm, I don't know....
GLENN:
Ever watch any Fox News?
TINA:
Oh GAWD NO, my parents are solid upstanding Progressive Netroots! That channel is totally blocked in my house! They would go nuclear if I even mentioned it...
GLENN:
They don't let you watch porn either?
TINA:
Oh, PORN we can watch.... lez, bi, S&M, whatever. We can watch satanism, black masses, pedophelia.... just none of that wingnut stuff, you know?
GLENN:
Well, I got a little electronic device... bypasses the parental block on any cable box.... I can turn you on to some Fox News if you like....
TINA:
I don't know....
GLENN:
Ever see pictures of Rush Limbaugh?
TINA:
Ooooh, you sound so cool. Listen, my parents are out tonight at a dinner to honor Hugo Chavez. Why don't you come over?
GLENN:
Great, tell me where you live. I'll bring some tea and we'll have a party.
Tina gave Glenn her address and he said he would be over in a half an hour. When he arrived, instead of Tina, my camera crew and I were waiting for him, with several officers from the NJ State Thoughtpolice waiting in the shadows outside.
Keith:
Hello, sir, come in. What are you doing here?
GLENN:
Hi, oh, I'm just here to canvas for Governor Jon Corzine... big election coming up, you know.
Keith:
I see you have a book under your arm...
GLENN:
Oh, it's "Dreams of My Father" by President Obama. I carry it with me everywhere I go...
Keith:
No, it's not, I can see the title from here! It's "The Road to Serfdom" by Friedrich Hayek, isn't it? Sir, you're here because you think a teenager named "Tina" lives here and you want to try to lure her into conservatism, isn't that correct?
GLENN:
No, really, I'm here to talk about Senator Menendez...
Keith:
I thought you were here about Jon Corzine?
GLENN:
Him too.
Keith:
Tell the truth, sir. You were going to tell this girl some of your big fat Rush Limbaugh lies, weren't you? "Keep the money you earn", right? "Free to choose", isn't that correct? "Liberalism is killing America", isn't that it?
GLENN:
(sobbing) Please sir, it's just politics. Everybody does it. (sniff)
Keith:
Just politics? You were going to fill a young girl's mind with poison crap like "Obama is incompetent" and "Global warming is a myth".... you were going to take away her desire for hope and change and bog her down forever in your stinking scumsucking fact-based reality-oriented no-free-lunch world, weren't you? WEREN'T YOU????
GLENN:
Please, let me go, I promise I won't do it again...
Keith:
Oh, you can go, sir. I'm not the police, but the Thoughtpolice are waiting for you outside. And they're going to arrest you and give you a fair show trial and give you a long vacation in the gulag where your roommate will likely be a big progressive fellow who'll be happy to share some of his wealth with you in the shower.
We're back live....
Nancy, care to share your thoughts about the work you do?
Keith, we try to bring our kids up left, to give them a good progressive education, to teach them left from wrong but we just can't protect them from evils like this 24 hours a day.
What's the solution, Nancy?
Keith, I think we have to bring back the fairness rule for broadcasting and extend it to the internet as well. Any and all right-wing propaganda must be balanced by an equal-time presentation of the facts. The government has to help us protect our children against this garbage.
Nancy, the critics would say, "What about freedom of speech?"
Keith, the Supreme Court decided long ago you're not free to yell "Fire" in a crowded theatre because it gets people stirred up and panicky for no reason. Likewise, these whackos should not be allowed to say things that get people stirred up and panicky about their government for no good reason, which is what all this wingnut talk does. So it should be illegal.
Thanks Nancy for telling it like it is.
This is Keith Olberbagger, bidding you good night (kiss, kiss.)

Father Prog Theocritus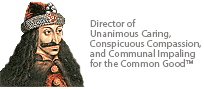 Opiate, this made me smile through quivering lips and I had to finger the tears from my eyes. We must save the innocents from Faux News and the vast right-wing conspiracy. The worst thing that can happen is for some, some, virus to turn young minds full of mush into wingnuts.

What if those children do things like start learning? Where would we be then? What if those kids knew anything about science, history or economics? Where would we be then?

We'd be up shit creek, that's where.

Part of the Second Stimulus Bill (PBUH) should be the development of an implantable superheterodyne, phased-antenna-array, mu-metal shielded tin-foil hat. Which would keep the bad radio waves from infiltrating the young skulls full of mush and would still receive the reception from Laika, Noble Space Dog.

As a side benefit we could watch Michael Moore films without having to have the gag reflex of Linda Lovelace.


Opiate of the People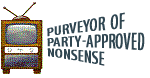 Commissar, everything we do is for the children. Just the other day, I was talking to our great governor, Seatbelt Jon Corzine and said to him, "Paco, they say you made mucho dinero on Wall Street as head of Government Sachs trading the crappy faux AAA securities that were destined to bring this miserable country to its knees. Why does a rich progressive like you want a job as governor of a two-bit POS state like New Jerky?" And Commissar, he looked me straight in the eyes and said, "I do it for the children!"

For the children! (sniff, sniff!) It's all about the children. The children are our future, Commissar (hark, I think I hear singing in the background.) I believe that children are our future. Jon Corzine does too, which is why NJ property taxes are sky high; he wants them all to move somplace better than this sh*thole. Obama believes the children are our future, too; that is why he is borrowing and spending trillions of dollars that our children will have to struggle to pay off. It's a character bulding exercise for them, and they'll enjoy working in the salt mines for their Chinese masters. It's all about the children.


Father Prog Theocritus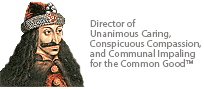 Yes, it is all about the children. As a Made Progressive I think that my first responsibility is to indoctrinate educate young children in the gentle ways of progressivism. Teach children not to be selfish, except of course with other people's money. A child has no need for his own money because he can by governmental fiat just take what he wants.

And with luminaries like Governor Corzine or General Obamissimo to show the way, we shall educate our children to be proper little commissars.

Now. Is any one up for a joint venture with Wackenhut to develop the next generation of low-cost, Supermax prison camps?


Opiate of the People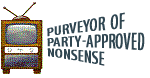 Geographically, Manhattan would make an ideal prison camp. It is an island surrounded by treacherous rivers with a handful of bridges and tunnels being the only way in or out. Unhappily, many of the Party's biggest benefactors live there; well, perhaps I should say LIVED there as a number seem to be fleeing for a less taxing life style. If the trend continues, it may soon be empty and ripe for prison camp duty.

New Jerky itself would make an ideal prison camp. The good news is most of the criminals are already here! The bad news is most of them are in the government. But maybe that's good news in that as soon as they are convicted, we can just install locks on the outside of their office doors and they can be imprisoned right where they sit. Some of them are so drunk or high, they may not even notice.


Father Prog Theocritus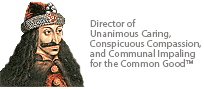 I love government. It's the art of acquiring power without talent or ability.


Zampolit Blokhayev

Commissar Theocritus
I love government. It's the art of acquiring power without talent or ability.
So what about His Excellency, General Secretary and Prez-4-Life B. Hussain Obama? He has talent. His artistic applications of a teleprompter are well documented.
--
ZB

Father Prog Theocritus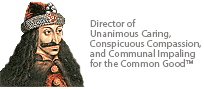 Perhaps too artistic. I heard that one night Michelle got quite tipsy on Dom Perignon shooters, and growled,"And what's with you and that f$#ing TelePrompTer, Barry? Are you doing something with that thing?"

"No, Punkin Butt, I swear there's nothing between us."

"Don lie to me. I saw your lip prints all over that thing."

"Punkin Butt, I swear I was just checking my makeup. And..."

"And WHAT?"

"And I slipped. I fell forward. That's all."

"Barry, if I find you been runnin around with that thing, I'll be showing Fox News the manuscript of your book written in Bill Ayers' handwriting."

"Er, Punkin Butt, how would you like a week on Rive Gauche? I'm sure that the French ambassador won't mind giving up his rooms for you to spend a week over there. And you can take Air Force One, too! All you have to do is give me that manuscript..."

"Barry, that manuscript is safe. I seen how you been eyin' that TelePrompTer. That manuscript is gonna get me half of everything that you make from now on. That manuscript is your balls, Barry, your balls. And I'm keeping it."


Zampolit Blokhayev

Comrade Herr Doktor Theocritus!!! I never knew that Michele was such an advanced progressive!

Could it be that I am developing a new found respect for her? Mmmmmm.............. nope.


Father Prog Theocritus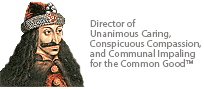 Oh, her powers of blackmail are amazing. And of sinecures. She had a job at the University of Chicago, made for her, at over $300K a year, which disappeared as soon as she moved to Washington.

Dear Barack Hubris Obama of course managed to get some goodies for U of C.

I wonder if KPMG could do an adjusted rate of return on how good an investment it is to get a senator's wife a fancy, made-up job.