Hammer and Loupe

Olympia, WA- After
finalizing negotiations with Governor Inslee and President Obama
, Chinese President Xi Jinping will have its first international base in Washington State. President Jinping was thrilled to see that Obama will give the Naval Station in Everett as well as some land for part of the Chinese Military.
The base will be an insurance we are at peace with each other since Obama just said, "Never will we see bloodshed between us and the Chinese. Peace for our time." A crowd of supporters cheered at the notion that the Chinese do not seek war against the United States and peace will be between the two nations.
President Jinping will enjoy the venue Washington State shall offer. From the Pike Place Market Gum Wall, to drinking wine at Columbia Valley. He then will set off on to Washington DC to meet the Pope.

Captain Craptek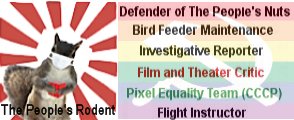 Someone once said, "Can't we all just get along?" Ah, so...

This is what I like to see - Xi openly meeting with big-shots like Satya Nadella (Microsoft), Howard Schultz (Starbucks), Jeff Bezos (Amazon) and Dennis Muilenberg (Boeing). Xi gets to tour Boeing's sprawling Everett factory accompanied by Muilenberg, company chairman Jim McNerney and Commercial Airplanes CEO Ray Conner. He'll visit the Microsoft campus and greet tech executives attending the U.S.-China Internet Industry Forum being held on campus. Then, he'll head to Washington, D.C., for a formal state visit, including dinner with President Obama. Xi will be in D.C. until Sept. 26 when he goes to New York for two days of events at the United Nations.

Somewhere in the midst of all the mutual admiration, and in the interest of openness and reciprocity, Xi will take a moment to attend a secret, closed, private reception on September 23 with members of the Chinese community.


Red Walrus