Ted State
(Washington, DC) President Barack Obama's teleprompter has committed suicide during a speech yesterday in which the president was defending his economic recovery program.
"We are all shocked and saddened by this tragedy," said the President who went on to say, "Um... uha... there... is... uh... a... thing... where... uha... stimulus... uha... Bush's fault."
A visibly flustered Obama stated that, "The country must come to a point where we can agree on being disagreeable about this unfortunate event which I can not seem to take a strong stand on either way."
Friends of the Prompter, or TOTUS, as they called him, were shocked and saddened by his passing.
"I am stunned right now," said TOTUS' best friend, MS Word. "We worked together ever since his community agitation days back in Chicago. Right now I am just asking myself, Why? Why did this happen? He seemed so happy. He even had his own
blog
that I helped to start, which he was so very proud of."
MS Word was not alone in his suspicion of foul play. Windex Spray Bottle, a long-time associate of TOTUS was visibly upset when asked about the situation.
"This is just another part of the vast right wing conspiracy to take Obama down. I blame Talk Radio for getting the public so outraged with their hate speech that one of their psyco listeners assassinated my friend," said Windex Spray Bottle.
The secret service is being tight-lipped about any foul play, but a spokesperson said that the investigation is ongoing.
A prominent Republican who wished to remain anonymous offered a different theory about the demise of TOTUS.
"It is interesting to note that the Prompter met its maker while the President was giving a speech on the economic stimulus package and how it was working," said the source, who added, "Maybe the prompter didn't believe it either and decided to kill itself rather than lie about the success of the stimulus package."

Comrade_Tovarich

Comrades,

My understanding is TOTUS was participating in a preview 0bamacare health program in which it demonstrates how private health insurance and private health care fall short at inconvenient times.


Ted State
Maybe he was on a waiting list to see a doctor under Obama's new healthcare plan and just dropped dead before he was able to get to see a doctor. If this speech was only given in Canada.......


Komissar al-Blogunov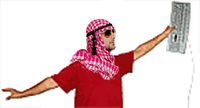 Maybe it was a Japanese teleprompter with a strong sense of honor.


Comrade_Tovarich

Komissar Blogunov
Maybe it was a Japanese teleprompter with a strong sense of honor.
Comrade Komissar Blogunov,
That's deserving of a medal of Cultural Awareness and Understanding, First Class!

Colonel 7.62

And a cookie!


Ted State
A fortune cookie?