R.O.C.K. in the USSA

President B. Husseinovich Obama today vowed to bring more freedom to members of the United States Congress, both House and Senate, by relieving them of the stress and hard work of legislating to create new laws.
"Just as Obamacare has freed up Americans by providing them with cheaper health insurance and no more need to hold a job, I will act on my own to bring more freedom to the hard-working members of our Congress!" stated the president as he headed to the golf course for some much deserved relaxation.
Comrade Representative Sheila Jackson Lee said that she and her Democrat colleagues have been busy
getting executive orders ready for the president to turn into law
.
"It's our number one priority," said the Congresswoman, "And we've got thousands of them ready to go and many more coming in the next three years."
Members of the press reported feeling tingles in various parts of their bodies as they listened to the president explaining how he's taking the necessary steps to continue in his ongoing effort to bring more and more freedom to America.

Armenian Radio.

Oh come on! Freedom is so 1776! This whole Freedom thing is totally outdated. The Way of the Future is Security!


Armenian Radio.

FREEDOM IS FOR THE BIRDS!


R.O.C.K. in the USSA

You're talking about outdated, capitalist freedom, comrade - and of course, you are absolutely right left!

The old, bourgeoise so-called "freedom" was nothing more than a tool of the Koch brothers and Halliburton.

But this new progressive freedom - for example, the way that Obamacare will free millions from having to work - is an important and long awaited evolutionary step toward the glorious socialist utopia which is being built even as we speak.


Ivan the Stakhanovets

I just noticed...

Dear Leader is so progressive, he is LEFT handed.

Now I add that like gravy upon my own ration of white guilt.


Armenian Radio.

Obama's America is so Progressive, it is already better to live in it today than it will be tomorrow!


Captain Craptek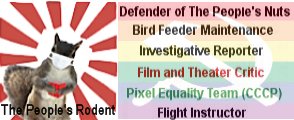 Red Walrus