Sugar Daddy Bear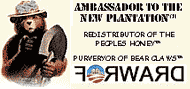 COMRADES,


In the never-ending saga of Chicago Values™, we profile yet another exemplar of expression: SHAMAN DANNY DAVIS. Danny Davis is a true Prog. He teaches and defines the heart and soul of what Dear Leader meant by saying, [Danny] "[is] one of the greatest congressmen," but also that he shares "our values""

~

The best way to understand Chicago Values™ is to study the great masters who express them. The Tiny Dancer™ known as Rahm Emanuelle, in his current incarnation as a restless demon finding a home as a city mayor, has shown the world the essence of what Chicago Values™ really means.

He first expressed them when a well-known fast-food business wanted to expand to another location in Utopia Obamaville Chicago. Tiny Dancer™ denied the expansion because Utopia Obamaville Chicago can't compromise the outstanding Chicago Values™ it already espouses: such values as thug mobs, muggings and robbery, murders, shootings, gang violence, drugs, illegal aliens setting up shop dealing drugs and counterfeiting identification cards of all sorts, cronyism, pay-to-play, nepotism, political favoritism, high corruption, necro-voting, and the fact that Tiny Dancer wants Utopia Obamaville Chicago to be a "world sanctuary" for the outcast gay community — even larger than San Francisco.

But if you happen to be a business espousing religious views, zealotry, bigotry, and support "traditional marriage", there's no place for you. And that's how it should be in the tolerant Utopia Obamaville Chicago. Shaman Danny Davis also understands this.

Before Davis took on Shaman duties, he is a member of the House Committee of National Security. That in itself makes me feel safe and secure. He's also a standing member of the Democrat Socialists U.S.S.A. And he also graciously
received a lifetime acheivement award from the Communist Party U.S.S.A.
When questioned about it, he answered in his usual sonorous S L O W cadence, which is enough to put even the most caffeinated to a blissful rest, he had this exchange:

DAVIS: "
Why are you worried about the Communist Party?"

JOURNALIST:
"I shouldn't be worried about the Communist Party?"

DAVIS:
"No."
THIS, my fellow comrades, is pure Chicago Values™!
Enter the Shaman:
Representative Danny Davis
commented on Tropical Storm Isaac heading for the GOP convention, saying, "Well, it means that the gods are favoring Democrats. Not that we wish any kind of difficulty in terms of the weather. But you know you take the bitter with the sweet. And if you can get a little sweetness without manufacturing it, that's pretty good."

You see, Shaman Davis knows the 'gods'. He calls upon them often. He won't admit it, but he was the one who called the 'gods' to bring Issac to the RNC convention. By raising his mighty greasy hands to the sky, and bellowing out in no uncertain terms, "BY THE NAME OF OBAMA!" shit stuff happens! Shaman Davis doesn't wish any difficulty in terms of the weather — "difficulty" defined as the storm not hitting its intended target.

He's quite comfortable if the weather causes others discomfort and distress — even death — as long as he's not on the receiving end. He's fine with allathat because it's only Rethuglikkkans and Tea Baggers that are affected, and that's OK! They deserve to die! THAT'S Chicago Values™!

The Shaman may as well said that if some Republicans die during the storm, well... nothing he can do about it: "you have to take the bitter with the sweet". That's the way the Chicago Values™ go.

And when it comes to the DNC convention, Shaman Davis will be sure to be there, putting people to blissful rest with his sonorous and painfully S L O W cadence — enough to age listeners up to 10 years before he even finishes the sentence.

With his mighty greasy arms raised high to the sky, and a mighty shout to the 'gods', "BY THE NAME OF OBAMA!" the clouds will disperse; the sky will clear; the birds will sing; and the sun will shine just a little brighter.

Afterall, he's a communist Shaman Prog with Chicago Values™.