KOOK

Progressives Rage at Nikki Haley naming Tim Scott US Senator:
~
Progressives rage at South Carolina Governor Nikki Haley appointing Tim Scott, a Tea-Party-Favorite, as a Republican Senator from South Carolina to replace the retiring Senator Jim DeMint.
In response to this outrage committed by another Tea-Party Favorite (Nikki Haley), Progressives are now making a firm declaration:
"We
must
stop the Tea-Party Underground Railroad spiriting African-Americans away from our Progressive Plantation."
--KOOK
Last edited by
Red Square
on 12/17/2012, 8:25 pm, edited 2 times in total.
REASON: add text

Expel The Red States
.......and Massachusetts considers Dukakis to fill in for Kerry when the discarder of other peoples medals 'reports for duty' at the One's Cabinet.

Actions speak louder than words.


Opiate of the People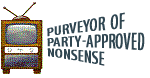 At last we Progressives have made our position clear: a Republican governor appointing a black person to this seat is raaaaacist. A Republican governor appointing a white person to this seat is raaaaaacist. A Republican governor appointing any Republican to this seat is raaaaacist. A Republican governor just being a Republican governor is raaaaaacist.

See, Republicans? We have made it simple for you to figure out how not to be raaaaacist. Just die.


R.O.C.K. in the USSA

Dear Opiate: the planet Nibiru will be taking care of that on Friday.