Komissar al-Blogunov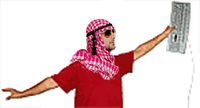 Dear Comrade,
We must help Dear Leader retake the initiative on this health care plan for ordinary Americans (Komissars, Czars, and elected officials will still have access to whatever plan they wish - that goes without saying). Regrettably, too many Americans are still permitted to access information and speak out publicly. Of course, once we get our Civilian Defense Force, we'll put an end to that nonsense, but in the meantime, it's still necessary to use non-enhanced methods of persuasion. Nevertheless, the point is that Dear Leader's plan for rationing health care to others is losing popularity.
People's Hero Alan Grayson
has accused the Republicans of wanting everybody to die, but that's old and crass. You know, lacks finesse.
So here's where you come in, comrade. We need new and original slogans to help Dear Leader once again give speeches that make teenage girls swoon. Something like Bill Clinton's
Mend it, don't end it!
...or maybe an oldie with a new twist...
The healthy are getting healthier, and the sick are getting sicker!
...then again...
Every day we fail to pass needed health care reform, 800,000,000 American children die!
<br>So have at it, comrade. Come up with a slogan worthy of the Beet of the Week or a Golden Blogunov. Submit your entry today, and you'll be entered into a drawing for a free
EcoTractor™

Ivan Betinov

ObamaCare. You'll Feel Us Feel Your Pain.

ObamaCare. Share the Pain.

ObamaCare. Bend Over, and Try to Relax.


Ivana Tinkle

Ho Ho, BHO, How Many Kids Have You Saved Today? Go ObamaCare


Ivana Tinkle

Redo: Ho Ho, BHO, How Do You Make the Government Grow?
ObamaCare ObamaCare ObamaCare Yeah


Comrade Whoopie

Let's be honest comrades, the problem isn't a lack of care for the poor. You only have to visit any ER to see the uninsured waiting for treatment.

The real crime is that afterward, the hospital expects them to at least try and pay the bill.

That's just downright unfair.


John Lenin
I prefer that moldy old line they continuously drag out melodious, glorious golden oldie: people are sick because "It's Bush's fault! ™ "