Ivan the Stakhanovets

Vladimir Putin is an economic genius, and has found a way to boost the economy in border towns near the Ukrainian border.
Russia Plans Second Big Military Base Near Ukrainian Border
Pawn shops, bars, restaurants, prostitutes, distilleries, army surplus, and other convenience shops have already begun raising prices and making improvements in anticipation of new clients with government paychecks...

Kapitan Kangaroo Kourt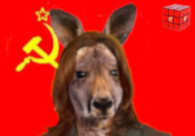 In other news, the creation of the
European Union's Rapid Reaction Corpse
has been delayed indefinitely as European leaders discuss whether their previous claims, that the Rapid Reaction™ Corpse would be ready to move in less than a year, meant that it should already be ready to move or that a Rapid Reaction™ would take less than a year once The European Parliament determined that a Rapid Reaction™ was a necessary political move and they could find 5000 people willing to react rapidly against Putin's military forces and his not so subtle reminder of Russia's nuclear capabilities.
There are unconfirmed rumors that the French President volunteered the entire French nation would react as rapidly as they did in the heroic year of 1940.