Evil Smiley

President Obama has found evidence that Russian President, Vladimir Putin hacked Mariah Carey's New Year's Eve performance in Times Square, New York.
He has stated that the United States will respond at a time and place of our choosing.
Senator John McCain has stated that this is another unprovoked act of war by the Russian state against the United States and should be treated as such.
Fast forward to the 5 Minute mark to see the results of Putin's hacking.

Captain Craptek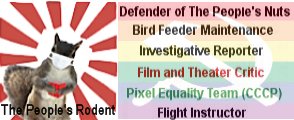 Well, OK, but she was still able to sing without opening her mouth. That's not easy! I do wonder, though - are we sure Mariah can sing at all? What if she's a "Fake Singer" like "Fake News" and everything she's ever recorded was actually someone else's voice? Just curious...


Genosse Dummkopf

Captain Craptek
... What if she's a "Fake Singer" ? ...
... or even an outright
Russki Khologramski
?