Kim Jong Fun

Before I saw the light of The World of Next Tuesday™ at the end of the tunnel, I joined the evil forces that claim to protect these United States of Amerikkka. Ah, the naiveté of youth. It was a long youth; 22 years, actually. Now I teach in public school, so I am right at home with my fellow
communists
correct thinking Americans.
But now, now I see that I had served as part of the most racist organization the world has ever known! The U.S. Armed Forces.
It is no better today then when it fought the Revolutionary War to
protect slavery
. Or when it fought the Civil War that
freed the slaves
caused Jim Crow. Or when it fought after the Germans bombed Pearl Harbor.
I see now that the signs are everywhere! Particularly in the names of ranks. In the Army we have
Master
Sergeant and
Chief
Warrant Officers. The Marines have
Master
Sergeant and
Master
Gunnery Sergeants (how violent and oppressive does
that
sound)! The Navy is not immune, with their
Chief
Petty Officers AND
MASTER CHIEF
Petty Officers. Holy Crow! How racist is that! Although, I must admit, the offensiveness is slightly offset by their acknowledgment of being petty. This racism applies to the Coast Guard also. Then there's the Air Force. They put the
Chief
before the
Master
and have way too many ranks anyway and way too many stripes on those ranks. But I digress.
I call for the renaming of all these offensive ranks immediately! Except that I have no ideas. I really haven't had an original idea since 11/11/2017, 2:41 pm.

Ivan the Stakhanovets

Comrade, I too have observed this disparity. I saw on the Capitalist Propaganda TOP GUN, a supervisor on the carrier wearing a shirt that said "Air Boss" and we all know that "bossy" is mysoginistic and hateful... and the sailors are all called "SEAMEN" What is more offensive than that?

That being said, I denounce your having original ideas... but somehow as you were confessing at the time, your assignment in Gulag might be mitigated by a day or two. That's neither here nor there, so don't bet the farm on that one. (oh, leave your ration card in my box at the train station, we'll take good care of it while you are gone.)


Comrade Jenkem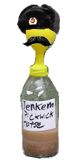 Mastering professions, skills, or professions is hereby declared "THAT'S RACIST!"


Genosse Dummkopf

At least all those generals carry nice five-pointed stars (and the toppest of them, when on warpath, even a pentagram of such stars!).
I reckon, the only way for this evil, conquistadorial, and utterly RRRAAAAAsist militarism to repent for its sins of the past, is to color all their stars in red. The korrekt, deep kommunist RED!
Mystery item No. 1
Kim Jong Fun
... after the Germans bombed Pearl Harbor ...
Germans? Germans?? And here I thought, it was an inside job (Curtis LeMay, anybody?). Intended to stir up the Japanese against Russkies, so the latter would install commies in Deutschland, thereby provoking a Hitler to pop up, whom then Roosevelt (Franklin D.) would beat, just to get an entry in Wikipedia.
(yep, read all that in The New York Pravda, so it must be true)

jackalopelipsky

Quote:
The change comes after weeks of protests for racial equality and years of discussion about changing the terminology.


The association says the MLS advisory group regularly reviews terms and fields used in the system to make sure they are consistent with the current market environment.

The president of the Houston Black Real Estate Association says the change is long overdue.

"How we present a particular space and how it is spoken, how it is presented, it really does make a difference," says Ladonna Parker.
Even a comrade's real estate - should that comrade be lucky enough to pay mortgage for real estate - is undergoing necessary change in Texazistan.
In fact, NO sleeping quarters are to be larger and more spacious than any other sleeping quarters under same roof according to WOKE Associations of Home Builders: Texazistan. Remodel your floorplans NOW, comrades.
'pelipsky

Genosse Dummkopf

How fortunate that a realtor isn't obliged to hold a Master of Economics.
(... just think of a burzhui in a five master-bedrooms mansion,
complete with a private harbor plus harbormaster,
and his three-master docked there)

Red Salmon

No Komrads have mentioned the most phallic rank of all, Staff Sergeant. Do I have to draw you a picture?
Enforcing the Current Truth ™ in the Alaskan People's Republic,
Red Salmon