Armenian Radio.

Shocking statistics reveal a deeply rooted injustice in the selection of away team members in the Federation. In an independent study done by the Vulcan Institute for Starfleet Reform, has revealed that aboard the Enterprise in the twenty third century alone, 43 out of 59 victims of space perils wore red shirts. The cause of this can only be discrimination.
We don't want to live in a universe in which Red Shirt lives are meaningless.
So, I encourage citizens to show support for hundreds of nameless victims of Federation Imperialism by Warping for Justice. Redshirt lives matter.

Kammerat X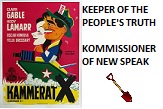 KAMMERAT_X esteemed comrade, let us not also forget the plight of the Cobra Vipers.
The pig dog capitalist organization of oppression G. I. Joe, think nothing of wantonly shooting the fighters of freedom. Cobra Commander works endlessly to bring about a better future for the world and those meddling Joes just seek every opportunity to hold down and deny the glory of a bright tomorrow.

VIPER LIVES MATTER!



Be seeing you




El Presidente

Comrade Armenian. You are reading the results of the study all wrong. As we all know members of the GOP are always color coded as being red (as in red state) whereas our brethren in the Democratic Party is coded as being blue. Those red shirts were worn by the members of the Federation who self identified as being Republican. It is why those members of the Federation crew were always used first as cannon fodder when combatting deadly enemies. The Federation itself is a "collective" of a New World Order government. Those few remaining red-shirted members of the GOP were clouded by delusions of individualism and had to be destroyed.

Armenian Radio.

So many rethuglikkkns still obstructing in the 23rd century?
Impossible!
Step your game comrades, or we might face such a dystopian future.