Kommissar Chernobylski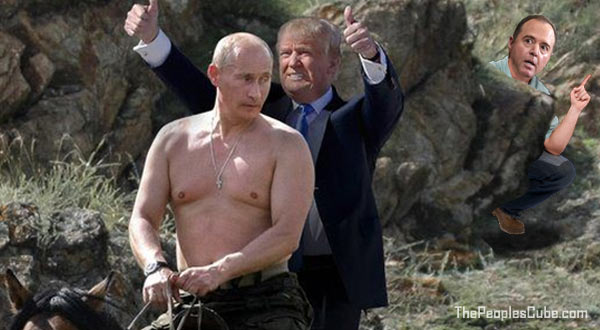 WASHINGTON AC/DC -- The senior congressman, a co-chair of the House Investigating Committee from California's 28th District, met reporters in Congress' rotunda to deliver this statement:
[indentr]
We are investigating the Trump campaign's secret collusion with Vladimir Putin and Lavrentiy Beria. We have overwhelming evidence from all 17 intelligence agencies still being headed by Barack Obama, that Donald Trump, the so-called unelected president of the United States, is actually a Russian secret agent code-named "I Spy."

We now know as a fact from the Washington Post's anonymous sources that the Russians forced 63 million Americans and possibly 3 million Mexican illegals in Tijuana during the last eight years to pull the levers to vote 1042 Democrat legislators out of office, as well as 71 congressmen and senators, and 13 governors. Their diabolic conspiracy has left us with only 17 out of 50 states governed by Democrats. They unfairly took over 95% of America's voting districts and undermined a really smart, responsible, and physically fit presidential candidate who was never a drunkard, never fell on her head, never had buckling knees or inexplicable epileptic fits, and never took a bribe in her entire life, I swear. It was HER TIME, it was our time, not theirs. She deserved to be president.

We were cheated out of everything.

The Russians have now taken over the US government. Before them, they were the Jews. Ask Rep. Keith Ellison, Inshallah, he'll tell you. Pretending to be genuine Americans, these people have gone so far as to change their names from Russians to Republicans and from Republicans to Americans to cover their tracks leading directly to the Kremlin. Others are even more deceptive, but we and the New York Times have identified them from our inside sources on the inside. They call themselves conservatives. We now know that every single conservative is a Russian spy in cahoots with Wikileaks. For example, they released pictures of Hillary falling down drunk and suffering multiple epileptic seizures. These were obviously fake news. She never collapsed entering her limousine while losing her shoes.

The most deplorable of these irremediable subversives belong to the "Tea Party." Tea Parties, I remind you, have nothing to do with America or its history. It's all Russian history. They party and drink tea instead of smoking it as we do, while we suffer, while we are miserable, some of us are suicidal, some of us are running around holding up bloodied, severed mock heads of the winner, most of us have gone insane marching and banging tin pots in the streets while wearing pussy hats!!! You can't blame us.

We are all in mourning, and many of us are left unable to work or attend class.
There are no SAFE SPACES left.
[/indentr]
Rep. Schiff then dried his tearing eyes with a well-used hanky given him by Kathy Griffin, and looked at the cameras: "America, that is not who we are! Are we?"

Clara Illbustyourballs Zetkin
Quote:
We are all in mourning, and many of us are left unable to work or attend class.
There are no SAFE SPACES left.
Au contraire, Comrade, I have found the perfect safe place for all these tortured souls.
Inside America's Toughest Federal Prison

Genosse Dummkopf

Clara Illbustyourballs Zetkin
Kommissar Chernobylski

... There are no SAFE SPACES left.

Au contraire, Comrade, ...
... and à propos, Comrade (& Comradette) - in less severe cases,
Umiat, Alaska
would still do.