Half-Black Cat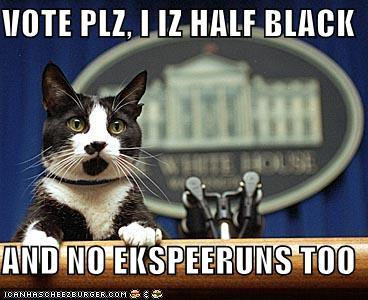 He has no experience, he spent hardly any time at all in the Senate, and his main claim to the Presidency is that he's half Black.
No, not Obama... It's Socks the former Clinton First Cat! (And perhaps the only Clinton we would ever let into the White House ever again.)
Please consider helping me round up votes for this Half-Black Cat by featuring him on your blog, in order to convince ICanHasCheezBurger to move this lol to the top.
If you want to help me out here vote for it here:
http://mine.icanhascheezburger.com/view.aspx?ciid=1683760
It'll only take 3500-odd votes to beat out the Bush-mocking lolcat...
http://icanhascheezburger.com/2008/08/01/funny-pictures-didnt-haz-any/
So please, lend me a hand in pointing out to the Internets that any old fur ball can become the darling of liberals just by pandering to their PC guilt!

Commissar_Elliott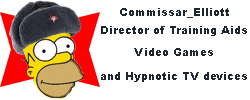 If you stop at the first sentence, it IS the Obamasiah.


Komrade Zarkof
Can Sylvester be his VP?


Sir Red Star(The Naughty)

I Feel a Socks/ General Mousey-Tongue ticket could win.


Commissar_Elliott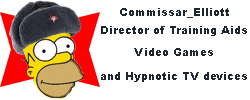 K.G.B. Komisar
I Feel a Socks/ General Mousey-Tongue ticket could win.
I concur.

General Mousey-Tongue

While I love my Mother China, I will serve the People in any capacity they choose. From each according to his ability, to each according to his need. I have known Socks since he was knee-high to a grasshopper, and I can vouch for his political reliability - and he has no skeletons in his closet. He is half black, half white, AND ALL RED!

If nominated, I will proudly run with my comrade, and if elected, I will serve...