R.O.C.K. in the USSA
Dateline the World -
Presidential Spokesbarker Jay "Carney" Carney announced today that the official results are finally in from last week's G8 Summit.
Speaking by phone from an undisclosed location to a large crowd of journalists gathered in the Rose Garden, Carney said that the summit went well for America, and that President Barackzebub Husseinovich Obama will be making a special presentation on television within the next few days, once the Presidential Teleprompters have been repaired.
"The sun was hard on the teleprompters in Germany, during the post-G8 tour," stated Carney, "but once we've got them up and running again you can expect a two to three hour TV presidential presentation on all channels, featuring the president and several of his closest friends - including Aerosmith, Jay-Z, Beyonce, and a whole slew of Blues and Jazz bands - wherein the president will fill the nation in on everything from the G8 Summit."
Carney mentioned that, as a teaser, the Most Transparent President Ever™ will announce a new world-wide Distributed Obamaphone, Obamacare, and Food Stamp program (DOOFuS), slated to begin on July 4 of this year.
"It's likely that the president will be golfing on the Fourth of July," chuckled Carney, which started a respondent wave of knowing chuckles from those attending the announcement, "but I can guarantee you that the administration will leave no stone unchoomed in making sure that your American tax dollar wealth is spread out to everyone in the world."

Red Walrus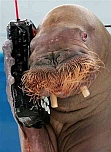 I wonder if Comrade Putin bought Dear Leader's 1/3 bilateral reduction in nuclear weapons? I assume President Barack Hussein Obama will unilaterally disarm as planned?


Captain Craptek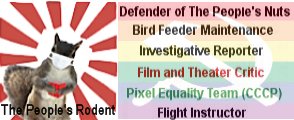 ThePeoplesComrade

Flexibility is overrated.