Reiuxcat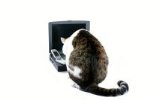 Comrades! The hordes are hording against Ron Paul and his Paulbots!

Look at this!




KOOK

You are right. He expresses his foreign-policy naivete so nakedly that it undermines our Dear Leader's attempt to cloak the same-such naivete in policy-wonk/internationalist rhetoric to conceal appeasementarian retreat.

--KOOK


Jíbaro

I think that Iran has the right to have nuclear weapons. We should stop drumming up a war against Iran.
Ron Paul is one sick clown.

Shovel 4 U
What kind of world do we live in when a supposed rethug is acting to the left of our Dear Leader? (PBUH)
I'm confused... is that an approved victim status?