Elsworth Toohey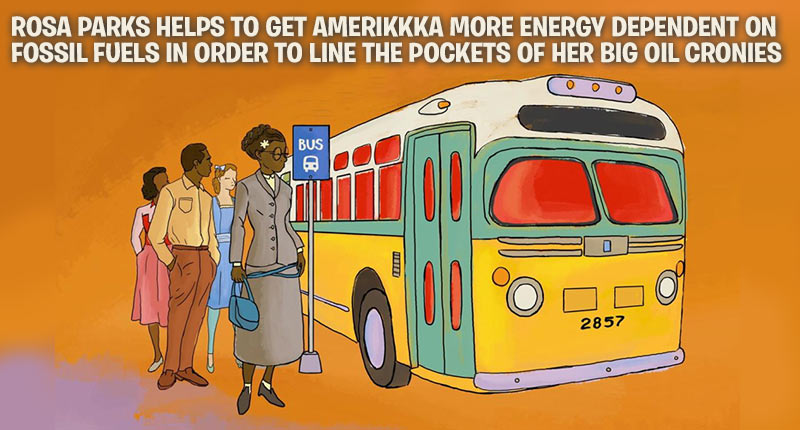 This should not be left unsaid.
Rosa Parks and her "boycott" was a clever attempt to get Amerikka to be more energy dependent on fossil fuels and to line the pockets of her Big Oil friends like Halliburton, Exxon-Mobil, the Saudis and the Bushes!!
By making public transit/buses less attractive, she single handedly lead Amerikka down the path of energy gluttony. The bus boycott really never ended. Since then, Amerikka has been foolishly and recklessly consuming the resources that could be very easily conserved if we would ride more buses. But Rosa Parks, Big Oil and Bush have their own agenda.
We must re-write history and expose her for the Big Oil running dog that she was!!!

Premier Betty

Either that or purge her from existence, and then say that Bush traveled back in time and ruined everything that way.


Elsworth Toohey

Rosa Parks... enemy of public transit, supporter of wasteful energy consumption, and supporter of Big Oil interests.

That should be part of her eulogy.


Elsworth Toohey

In honor of Rosa Parks struggle for equality, Islamic freedom fighters burn a few hydrocarbon burning buses. Neverimnd that burning buses may have more emissions than the internal combustion engine... it's about making a symbolic gesture to the oppressors.

Red Square

http://www.nypost.com/news/regionalnews/57832.htm

ROSA PARKS DAY
November 19, 2005 --  The day Rosa Parks refused to give up her seat at the front of an Alabama bus to a white man may become a New York City holiday.
The idea, passed by a City Council committee yesterday, needs full council approval for Dec. 1 to be a citywide holiday where public and private offices would be encouraged to close, and schoolchildren would attend events commemorating the civil rights leader who died last month at age 92.
"We are calling on New Yorkers to have a Rosa Parks moment — sit down for something, stand up for something," said Councilman Charles Barron.
AP

Comrade Otis

And to think I'd been fooled by her for so long... Mr. Toohey, not only are your thoughts on architecture brilliant but your insights and ability to connect the dots as with Rosa Parks and her actual reactionary goals is simply astounding. Thank goodness for honest intellectuals such as youself that have no illusions as to what you're really all about!

I think that Red Square makes an important point with his above post. By embracing Rosa Parks and making her the modern-day left-wing equivalent of a saint we can truly "sit down for something, stand up for something!"

Anonymous
Rosa Parks' name should forever be linked with our continued dependence on harmful fossil fuels and indirectly responsible for the war in Iraq! The blood of ever Muslim Freedom Fighter in Iraq has been shed in vain to prop up her legacy.

Boycott Rosa Parks!!! Go Greyhound...