Laika the Space Dog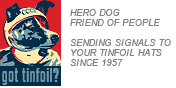 Rosie O'Donnell, who became depressed after the Columbine shootings discovered that being a Moonbat can cure depression.
"I hang upside down for 15 minutes to a half hour every day and I encourage other Barking Moonbats to do the same. If only George Bush would become a Barking Moonbat and hang upside down for 15 minutes to a half hour every day, the war in Iraq would be over by now."
Rosie is to perform her therapy on tomorrow's viewing of the TV show the "View".
Here's a sneak preview with one of her girlfriends:
SOURCE

Hillary

I had a special perch installed in the Lincoln Bedroom when I was FLOTUS. I did two hours every day. Bush had it taken down. I am making a campaign promise today to have it re-installed when we take back the White House and I will make Moonbat perches a central part of my Health Care Plan. I believe every Moonbat should have affordable access to perches. There are about 300 million people in this country without a Moonbat perch and that's just another tragic legacy of the Bush Administration!

Hillary '08


Premier Betty

Quote:
Until all the blood in her brain makes her pass out and shut up

It shouldn't take long.