Red Rooster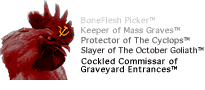 How very Random(TM). I think a butterfly just flapped it's wings in Hawaii! Oh, no, nevermind, that was just a Woomba Loomba passing gas. Those Mean(TM) Mean(TM) Mean(TM) signs, were they Meaner(TM) than your very own Cockled Commissar? I would fret to think that a Meaner(TM) thing exists than the Mean(TM) Stalinist-Cock that I am!

I've been known to with hold cake from the Woomba Loomba's until after their lunch break. Yes! It's true. Do not be alarmed, I cleared this action with The Whyte Hoose Woemyn's Counsil (after much debate, of course).

I Hope(TM) that girl got back to Youth Camp safely, Kamp Obama needs good proles like that for every Town Hall Meeting(TM).

Was Bob Barker there giving out toasters?


RED BETTY

Rosie the Red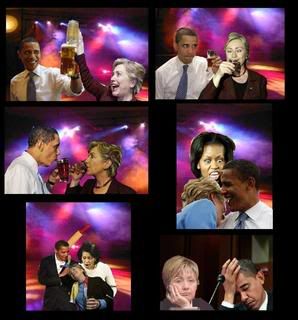 Now that she's hanging out with the O-Master, she can throw out her Prog Pleasure
™
Tickler.



Father Prog Theocritus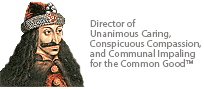 Nothing like the sound of the laugh of Our Many Titted Empress, although the sound of Barbara Boxer lecturing (1) a general and (2) a black businessman comes close.


Red Rooster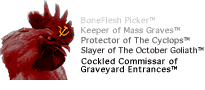 RED BETTY
Now that she's hanging out with the O-Master, she can throw out her Prog Pleasure
™
Tickler.

COMRADE RED BETTY!
The Wombat Factory(TM) has upon good source from spying Woomba Loomba's that you are indeed in need of re-education! A Magical Mystery Tour perhaps down The Cherry River, deep within the confines of The Wombat Factory(TM)!?!
We have lost many a prole on this tour, I'm warning you, there are magical treats that tempt and beguile even the most steadfast of Wombats. Bubbling fountains of lavender licorice, luscious limpid pools of lemon drops, precious ponds of Progosil(TM) and Progrin(TM), chattering catacombs of CheTex(TM)... so many..
Whispering rooms of wombat surprise all await your seeking eyes.
Are you ready, Comrade Betty?

Shrimpster

Lone Stage Grip
Rosie
In the movie biz I get to deal with dumbass liberal types all day long, hell if it weren't for me, I often wonder if they'd know where the switch is to turn the light on and go to the damn bathroom!

Hell yeah, it gets old! One damn limo-lib after another thinking their shit don't stink.
Well, I'm sorry if I can't speak with big elegant words like these commies here, but I sure hope you won't hold that against me.

God Bless America!

Lone Stage Grip
Well said.
Todays Republikans are yesteryears Demokrats, and todays Demokrates are yesteryears Rebublikans.
My dad use to be a lib until Regan took office. It's ashame that the "chosen one" has more that tripled our national debt and wants to "kill off" the elderly. If us Republikans did such a thing
gasp
it would be all over the news and everybody would be in an uproar. But no it's a lib no one gives a crap what they do.
http://www.youtube.com/watch?v=_FTdx6hHvlc
P.S. I'm a Hannity and Limbaugh baby. Ha Ha

Red Rooster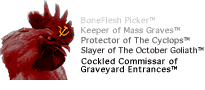 Comrade Shimpster!
Why are you conversing with capitalist cowboys! The Party™ won't stand for it! That is, unless you use the proper protocol Cone of Silence™ when pretending to be a Rethuglican.
This is the cone of silence, we have many of course, we use them when talking out of karakter. They are available here:
I am giving you the shrimp treatment, most people have to figure this out on their own. Welcome to The Cube, enjoy your stay, most don't last long because being a true progressive is as hard as Howard Roark's struggle.
Uh oh, I'm getting hungry again! erk... umph...twitz.. *twitch* *twitch*
Listen Comrade Crustacean! You need to get together! The Party™ has no time to shrimp sit! Sure we'll give you healthcare, and welfare, and daycare, but we don't expect to personally give you the time of day! Take your number and STAND IN LINE!
There's a lot of people to be saved from themselves and your the last thing we need taking up precious personal resources!
Hail Che!