Krasnodar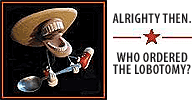 Doing her part to boost morale for the " Spring Offensive"!
( BTW: B.Y.O.C.)

Evil Smiley


Sgt. NeoTroll

Evil Smiley
sandra-fluke6.jpgNot just the troops, but the horse they rode in on... or whatever...
Stand down soldier ... this is a job for the Marines. They don't call her MaryJane Rotten Crotch for nothing.

darski

And the good news is that Sandra's giving nature means there won't be any more rapes. WTG Sandra


Comrade Loaf
I'd rather take a shower with Sandusky.....


Comrade Loaf

Pamalinsky

Komrad Phobianov,

You are so very sweet to care about us wymyn in this way, by suggesting that O's Mama is different from us, in that we all don't pose for salacious pictures. Very inciteful insightful, dear Komrade.

Whether or not it's true that this image is actually O's Mama doesn't change a thing! Progs will continue to think she is the Virgin Mary! And, of course, Obama is the Resurrected/Immaculated One!

Probably shouldn't say this but, I'm just sayin'!


Comrade Loaf
Pamalinsky,

Disregarding what they say about people on the internet (that adults are actually children, that wymyn are actually men and that children are law enforcement), I appreciate your warm and well stated comments.

One of the comments one of the men is reported as saying is that the number of white wymyn who are interested in trying out a black man one time exceeded that man's capacity to perform.

Apparently MamaObama liked what she found over and over again, so a tribute to generous wymyn everywhere!