Opiate of the People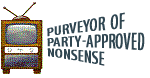 Oliver Stoned, part-time film maker and full-time agitprop dispenser, today unveiled his newest project, a charitable group designed to help the deserving despots of the world. Entitled
Save The Dicktators (sic)
it is designed to draw attention to the plight of long-suffering dictators, tyrants and and strong-men the world over and, hopefully, somehow make their lives a little easier.
"Life is hard for these poor souls", said Stoned, "and I think we need to help them out each month with a little support and money (mostly money) as they try to survive in the jungle of world geo-politics."
According to Stoned, when a patron joins "Save The Dicktators", each month he, she or it will receive a picture of a deserving dictator that needs help along with a personal letter. The participant will then pledge to send in a certain amount of money each month. Stoned guarantees that every cent received from the pledges will go to help the deprived little megalomaniacs. "Just ten dollars a month from a few million people will get them a lot of the things they need for a better life: a few thousand rounds of ammo, some Russian-made air defense systems and maybe a few bucks for an occasional prostitute here and there. Just ten dollars a month! Is that too much to ask?", pleaded Stoned.
Stoned kicked off the project by unveiling a picture he posed for with this month's oppressed urchin, poor little Hugo of Caracas, Venezuela (seen below.) "Hugo does not have enough champagne and caviar to eat", declared Stoned, "because he has been giving away his
missle
launch money to help his little friend, Manny Zelaya, who is being picked on by pro-democracy bullies. So even though Hugo has not had brie in over a year, he is still trying to help out those less fortunate than him (sniff, sniff.) That just makes me want to cry (honk.) I just couldn't let Hugo go without the things he needs to subvert neighboring countries and crush his enemies at home. I just could not live with myself if I didn't help."
What about you? Can you turn your back on little Hugo and the hundreds like them who are just trying to bring a little bit of fascistic self-serving government to their home lands? Will you be able to sleep tonight knowing that little Hugo may have to kill his political enemies himself instead of hiring high-quality thugs like the wealthy dictators do? Just ten dollars a month - just a fraction of what it costs you to pay the fine for not buying health insurance under the new ObamaCare plan - will ensure that little Hugo and little Manny will be able to grow up in a world where their pictures and statues proliferate like rabbits while the people they purport to help starve. Millionaire
f*cking idiot
Oliver Stoned could not turn his back on them..... can you?

Father Prog Theocritus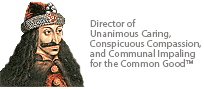 If I gave $15 a month, do you think that we could farm out some union thugs to dear Little Hugo? I know that the union goons are needed to disrupt the town-hall meetings of those evil burghers who for specious reasons don't want to relinquish their money or freedoms.

I think that we ought to get Nansky to offer some foreign aid to Hugo. After all, she's a rich bitch used to ordering people around and she has no conscience, and no visible brain. Who better to offer advice?


Opiate of the People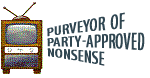 Hmmm, $15 a month sounds a little steep to me, but perhaps we can work out a sort of "cultural exchange" program whereby we send some union organizers and ACORNs down there and in return, little Hugo can visit here and present some new tea-bagging "oppo-research" techniques that he has learned in his numerous successful.... um, campaigns. And while he is here, we should try and presume upon him to make a college speaking tour, say at $100K or so a pop. I'm sure our best and brightest most high elite would enjoy hearing Hugo tell them how he is going to rip out their eyeballs and shove them up their a$$e$ when he, Kim Jong-il and Ahmadinejad bring the Revolution to our shores. Afterwards, he can mingle with the crowd and they will all tell him how great he is and how miserable this country is and then they can all line up to shove their tongues in his private places. A splendid time is guaranteed for all!

I don't know about having Nansky get near him, though. You know how bossy she can be (I know about the menopause thing but that has to be close to 20 yrs ago now, that excuse is starting to wear thin.) Frankly, it's one thing to call the CIA a bunch of liars - she is sort of their boss so she can get away with it - but if she lets fly with something like that at Hugo, it could cause a nasty little incident. It may undo all the nice-nice that Chairman O has spent months making.

And speaking of "letting things fly", a word to the wise.... she should go easy on the tamales. Whew! It's enough to wilt the VP's new hair plugs. 'Nuf said.


Father Prog Theocritus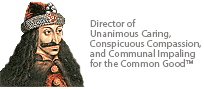 I didn't know that Nansky ate tamales--I thought that she customarily dressed in corn husks and therefore looked like a tamale. They suit her complexion.

I like the idea of a speaking tour for Hugo. Do you think that Bill Clinton can do the warm up? Of course he wouldn't like not being the big cheese but then he's not a dictator of a banana republic. Yet.


Opiate of the People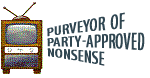 If not tamales, then what.... I guess it doesn't matter, Cap n' Trade is stuck in the Senate (those reactionary old pro-climate changers are going to get us all drowned) but if it somehow were to pass, I hear Nansky has inherited all of Ted Kennedy's carbon credits.... HAHAHAHA, who am I kidding? As if she needed any, she couldn't just make some up. As she will anyway, to give away as stocking stuffers to "preferred industry partners." HAHAHAHAHAHA!

Hmmmm, Former President Bill as the warmup act for Hugo? I don't know, Dear Leader Kim is kind of the jealous type. He might kidnap a whole planeload of reporters this time if Bill doesn't start paying more attention to him. And Bill going off with Hugo is bound to go over poorly with him; when it comes to throwing ashtrays, Kim's got a much better arm than Hillary. Kim could've played pro ball in his younger days but couldn't find a team that wore all-green uniforms. Anyway, Hugo is must more into Hollywood types; Ollie or Sean would make a much better warm-up act for him.


Father Prog Theocritus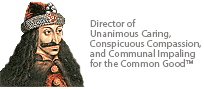 Yes, Hugh is a Hollywood type. Perhaps he could have Johnny Depp, who has still not left the country as he promised, come and give him some advise about playing a crowd.

Not that he needs it. After all, if you can fist bump with Dear O'Leader you're playing the crowd pretty well.

Or at least one precious, self-righteous, arrogant fool.