Comrade Whoopie

Here are some Party approved toys to put under the Solstice tree this year. The People's Toy Co-Op will have plenty on hand for redistribution to your favorite little comrade. The last one is also ACORN approved and may be tax deductible.

Leninka

Well, at least in a bad economy they'll be able to go out on the street to help support the rest of the family.


Red Rooster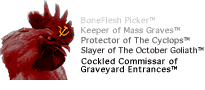 Like I always to my little comrade chics: "When we finna celebrate Kwanza off in dis mug, you best get yo ho azz out on da corner for little Jack Horner! Daddy needs to get paid n-shiiiit."