Father Prog Theocritus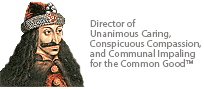 All right. I've had it. We've had simply months of the Chosen One. A sighting here, a sighting there, Barry's in the building, walking on water, descending from the clouds. Who really believes that? I don't. Because it doesn't have anything to do with me and anyway, I'm first. Primus inter pares. Seniority among socialists. SAS.

Here I am, a valued member of the Party, to which I give my all. My all, all the time, 110% of, without regard. And what do I get? Ignored. Ignored. After all my years of service to the Party, I'm upstaged by a man who was a community organizer for a few years, a simple political hack for a few more and an inexperienced senator who just might make it into the White House.

I ask you. Is that fair? I've been here, in Texas, at Rancho de Rio Grande, mugging wetbacks and stuffing ballot boxes in Duvall County. (I know, I know, people tell me that's old hat, ask LBJ but no one has don it with my panache.) I've been buying elections, threatening reformers. I've been dragooning bankers to make loans to people in my employ, if you define people my workers as those who are temporarily without transportation and who need to work to eat, and I've been doing it for years, and what do I get? Bupkis.

I wasn't invited by Madeline Talbott of ACORN to train shock troops in voter registration. I sucked it up and did my own voter fraud. All by myself. Without being paid. And I didn't have anyone ask me how to put Walter Annenberg's money to purposes he'd have hated. That is so unfair. I had to steal my own money to use against people. No one let me give out $110 million of OPM. I did it all myself.

I didn't sit and listen for 20 years to some nutjob say "God damn America." I came up with all by my self. Jeremiah Wright? Why get your hatred second-hand? Isn't the Chosen One smart enough to hate America all on his own? How many years did he sit on his ass in a church in Chicago just to hear some nutjob preacher say something that I regularly read in my alphabet soup and see written in steam in my bathroom mirror? I tell you, the Chosen One must be Chosen because he didn't do it himself. I did it myself.

And I'm not a senator. Now I admit that I'm not the object of oral adoration like that bestowed by the likes of E. J. Dionne on the Chosen One and Margaret Carlson has never showed me any cheesecake. And Keith Olbermann has never rushed me in tones which might make even me uncomfortable and boy have I had people rush me. I always thought that that the media giants were put off by the fruit stand which follows me. "Bruno," I yell, "Go home and give your mangos a rest!" But I have to think that it's not Bruno. It's just unfair.

I'm older than the Chosen One. Therefore I have seniority. And therefore I, as shop steward, am calling a strike.

Down tools. Put down your fake-name generators. Quit voting the dead. Stop threatening bankers' wives.

Just stop. It's a strike of the progressives. Seniority among Socialists. SAS.


Commissar M

Comrade Theo, I Feel Yer Pain™, truly I do. Yet please remember that The One is no mere mortal but that He is ageless and eternal. He is the Socialist Alpha and Omega. Thou shalt have no Messiah before Me and all that shit.

I realize that all of us in the Party are a bunch of whining, selfish, narcissistic little adult-children and it is sometime hard for us to understand the Holy Pravda. But The Spouse (PBUH) of The One has spoken and said unto us that He will not allow us to go back to our lives as usual. It is for HIM that we and all those brave Commies Fascist Progressives that came before us have devoted our lives to preparing for. We are most Blessed (in a secular way) and honored to be living in this hour of His arrival. We mustn't quibble because our long- hOped for dystopia utopia, The World Of Next Tuesday, is nearly here. And what a Glorious time it will be!


Father Prog Theocritus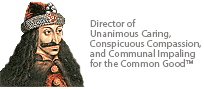 Yes, it is, Commissar M, yes it it. But I'm still pissed. After all the work that I've done.

But like the true mensch that I am, I've dried my tears and dusted off my old book of incriminating photos, bugged phone calls, and captured emails. I may be down but I'm not out yet.


Commissar M

Commissar Theocritus
Yes, it is, Commissar M, yes it it. But I'm still pissed. After all the work that I've done.

But like the true mensch that I am, I've dried my tears and dusted off my old book of incriminating photos, bugged phone calls, and captured emails. I may be down but I'm not out yet.
That's the spirit Comrade! Back to your old self and acting like a true member of The Inner Circle again.

Father Prog Theocritus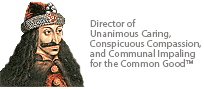 Of course. And I'm sharpening up my knives for the backs of people who need them so richly.


Premier Betty


Comrade_Tovarich

Comrade Commissar Theocritus,

Your self-criticism and self-pitying above is exemplary! I nominate you for a pre-foregone-conclusion-election victims-only tax cut, even if you're among the minority population who already don't pay taxes, as well as an Order of Victimhood, Distinguished, 1st Class.


Father Prog Theocritus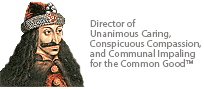 Thank you, Tovarich, thank you. That brings a tear to my eye. Personally I think that I ought to be given credit for every tear that I show because tears are so real, you know. So very real. In fact emotion is real. If you cry enough then people think that you are very sincere and if you're sincere, that makes it true, doesn't it?

I'm so sincere that people believe everything that I say, because they're so busy watching me be sincere that (1) it's a train wreck that nullifies their thinking, or (2) they're embarrassed and just want to get away and let me have my way.

And I don't care which one it is. As long as I get my way.

Is any other socialist out there interested in some master classes in whining and self-justification? Credits are not in general transferrable to engineering schools but the Ivy League eats them up.

Come to think of it, Princeton eats them up too. Recall the wife of the Chosen One who in her senior paper complained about being black. "People told me I didn't have the grades to get into Princeton." Which she said in Princeton.

What a gal.


Comrade_Tovarich

Comrade Commissar Theocritus,

You are not just welcome but deserving. And special. :-)

While Japan is sometimes refered to as "the world's only successful Communist country," they have a curious expression, usonaki, which is literally "lie-crying" (uso + naki (from "naku," to cry). This is most frequently used in the context of crying children, for whose ends are all means justified. Apparently the Japanese people's language has not yet evolved to incorporate the progressive truth you have adroitly identified. Ah, the struggle is long and uphill.


Father Prog Theocritus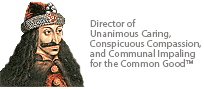 Tovarich! You have strengthened my vocabulary immeasurably. I have been shamefully Western, only studying Latin, Greek, French and German and have no experience with other languages.

But lie-crying? Lie-crying?

That explains the entire Clinton administration.

Thank you, from the bottom of my shallow socialist heart.