Kommisar of Fatwas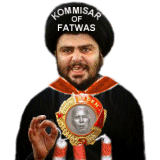 Sheikh, Rabble Enrole- Islamic Outreach by the Peoples House
Sheikh Abdullah bin Bayyah, vice president of the International Union of Muslim Scholars (IUMS), was received by senior Obama administration officials in the White House on June 13
: [indentr]
Bin Bayyah's website
[says] ... he met June 13 with senior Obama administration officials at the White House.
t was the Obama administration which sought the meeting with Bin Bayyah, his website's account said.
"We asked for this meeting to learn from you and we need to be looking for new mechanisms to communicate with you and the Association of Muslim Scholars (another name used for the IUMS)," Gayle Smith, senior director of the National Security Council, reportedly said.
Bin Bayyah's June 13 account placed other senior officials in the meeting, including: Rashad Hussain, the U.S. special envoy to the Organization of Islamic Cooperation (OIC), National Security Adviser Tom Donilon and White House spokeswoman Jennifer Palmieri. But the account was later changed to delete the reference to Donilon's presence at the meeting.
Smith also thanked Bin Bayyah for "his efforts to bring more understanding amongst humanity" during the meeting, the Bin Bayyah account said.
The White House did not respond to repeated requests for comments between June 14 and Tuesday.

[/indentr]
Bin Bayyah posted a picture of himself in the White House on his website.

See, Comrade Enemies of My Enemy, we are making Progress for The People.

--Kommisar of Fatwas

Captain Craptek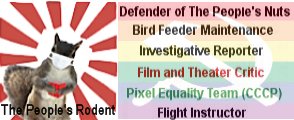 Enhanced Version

trashmouth

Yes, comrades Democrat leaders have finally won a major battle in their courageous war on vicious propaganda banning the term Global War on Terror as it simply implies that such a war actually exists. As the glorious leaders conducts the People's Business
TM
as nonpartisan as possible, they still didn't offer Bib Bayyah a cabinet post!
Comrades, do we still want to continue to alienate the Muslim world with that Judeo-Christian value nonsense? Do you want to continue a war in which we cannot continue to handicap our efforts or do we want a utopian world where 78 virgins sing and dance over skittles rainbows….I ask you!