Red Rooster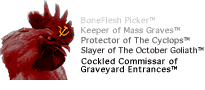 Excellent Comrade Castrate! Your work is an inspiration to The Party™, I still think however we need a wondrous impaling or a visit to The Wall! There was a guilty verdict here and somebody needs to pay comrades, somebody needs to pay.

It breaks my Pol Pot heart not see the kind of justice here that was served to The Infamous Gang of Four. I mean they squirmed for weeks beneath the most equal gavel of Marshal Pupovich and the vicious shovel of Commissarka Pinkie.

Yes Comrade Castrate, consider yourself lucky, Judge Theocritus is to kind.


Colonel 7.62

I object! And in doing so turn back the clock to BEFORE Judge Theocritus reached his verdict. There is much to go over still. Pinkie has yet to thwack anyone, Pupovich has not yet been bribed, and there is still the matter of the clocks Castrate made himself. Hrmmm perhaps we can have SHOWTRIAL 2.0!?


Commodore Snoogie Woogums
Colonel 7.62
Quote:
Indeed I did see that awful clock. I am working up a proper invasion of Cuba as retribution. I am still awaiting the arrival of Commodore Snoogie Woogum's fleet, which of course will arrive on time. Meanwhile, I hope havana enjoys being trapped in the 1950's BWWAAAHHHAAAAHHAAA!!!!

The fleet has been sortied and they will be at your disposal to support this glorious invasion.
I Would have responded sooner but my hands were tied up dealing with an irate prole who did not like our Recruiting practices. Take a look and you can see why my hands were full.....
Comrades A minute of silence for "Liberace" the hamster.

Father Prog Theocritus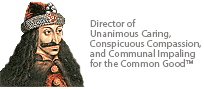 7.62, there will be no turning back the clock to before I reached the verdict. I have been amply insulted. If you want some, get it yourself. I suggest that you employ SEIU goons. After all, their website says that they will fight for you. Just like the Goracle: "I will fight for you" as he tried to put his hand in the air but was no more successful than he was clapping his hands at a black church.

Snoogie, unfortunately your YouTube link did not make it to Phoenix, where I am now living in the lap of luxury sharing the misery of our poorest and most downtrodden. It says invalid parameters.

I do hope that you are not inviting your own show trial. I mean, how many of these can we do?

I'm glad to know that I'm not the only one having an unhealthy fascination with Mlle. Gawdawfulo. But let me propose something to make us all feel better.

I do not have fantasies about women. I presume that you do nothing else. But since Gawdawfulo has presented itself, er, herself to us I can only assume that she is some sort of demonic presence, which transcends sex. And when you get down to it, why not? I think that that woman would wilt a dildo.


Infidel Castrate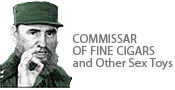 Commissar Theocritus
Comrades, that huevo in an egg cup is making me physically ill. I don't know if it's the castration or if it looks like Billy Connolly.
Commissar Theocritus,
Consumption of Che Gourmet 3 Minute Wuevos can be considered for snacks, but for a well balanced breakfast you must consider including some Instant Votes to complete the meal.
If one is still finding the need to purge oneself, (especially after an erotic encounter with Gawdaffolo) I recommend the dinner version of Che's Gourmet Wuevos ...
http://en.wikipedia.org/wiki/Rocky_Mountain_oysters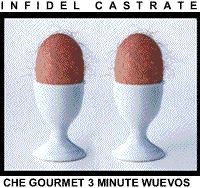 Father Prog Theocritus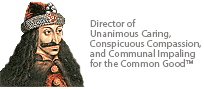 Castrate, are those the huevos that were harvested from Gawdawfulo? It's so hard to tell, you know--men only have two of them but dear Janeane merely grows them. What's odd is that they don't seem to produce testosterone, for the woman is a boiling cauldron of hyperestrogen.

I do wonder however if we could get Gawdawfulo and the nano Jimmy Carter president together and they could compare brass balls.

Not that they have real ones.


Colonel 7.62

Comrade Theo, you have given me a brilliant idea! People's Balls(TM)! We could market a line of cast brass (or at least brass plated, or even brass colored) balls to surgically implant in that growing group of Prog who so desperately need them. No Balls?? No Problem? With People's Balls(TM) you have big brass Party Approved(TM) Ones!


Father Prog Theocritus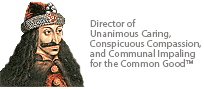 7.62, I think that Progs have plenty of brass balls--and brass neck too. It's just the real balls that Progs are lacking. A Prog will howl at anyone who won't fight back, such as Christians. But a Prog will roll over for a Muslim, who will fight back. That's the difference between brass balls and balls.