Chairman M. S. Punchenko

I was perusing the Daily Kos when I came across this story out of Northern Virginia:
(Bold emphasis mine)
Some idiot Kosling named Kagro X
On my block, in my very purple, exurban Northern Virginia neighborhood, we have a problem.
When I moved out here 12 years ago, this was still solid red country, with wingnut Republicans representing us pretty much from top to bottom. But over the past few years, through growth fueled by a steady march of new neighbors moving in from the northeast, or out our way from bluer Arlington and Fairfax counties, we've turned out our most egregious nutbar Republicans in favor of Dems across the board (with the lingering exception of Rep. Frank Wolf).

So it has come as something of a surprise to me that my little bellwether street has sprouted McCain yard signs during this past week, with seven homes displaying ten prominently placed signs. We're purple, like I said, but you can't tell that this week, because there are literally zero Obama signs anywhere to be seen. In fact, I've been up and down the neighboring streets, too, and the story is the same there. Not quite the same numbers of McCain signs, but the same number of Obama ones. Zero.

That got me concerned, and I headed out to the Leesburg, Virginia, Obama office to see about getting myself one, thinking that some visibility for the Democratic ticket on my street was more critical than ever. My neighbors sometimes need "permission" to display their Democratic preferences, even though our Republican friends don't seem to wait for anyone's invitation.

But out at the Obama campaign office, I got some unwelcome and unexpected news: no signs. Not only no signs, but none expected to arrive any time soon, possibly for as long as five weeks! So dire was the situation, I heard, that volunteers in the office were taking up collections to have their own signs printed.

OUTRAGE! Well, actually, not so much. I actually sold all of the Commonwealth's Obama/Biden '08 signs to eager European tourist who would pay top dollar for them.
Europeans just
love
the Messiah and, well, I just
love
money. Sorry, Comrade Kagro X!
P.S -- You have to give your neighbors permission to "display their Democratic preferences"??

Ivan Betinov

Quote:
P.S -- You have to give your neighbors permission to "display their Democratic preferences"??

Dammit, Meow! Don't you recognize freedom of speech when you see it?

Laika the Space Dog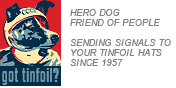 Poor Mulva, somebody buy him some Panera and a Starbucks.
Damn Mini-mansions and their RethugliKKKan signs.
Actually, I liberated them from their yards and redistributed them to poorer, less fortunate neighborhoods, for a fair trade eco-friendly price on dead white guys on green recycled paper. I then took the Party's equitable share (90%) and gave the rest to George Obama, a very worthy cause. He now has an Obama sign and another AC Milano poster to decorate his mud hut in Kenya.
Are we his brother's keeper?
Yes We Can!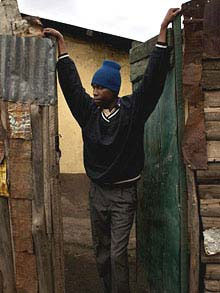 Editor's note:
Hat tip to our Communist Friends at ChinaDaily.
Try Image Googling "George Hussein Onyango Obama"....ain't nuthin' there.

Union Boss

What a great idea laika. Taking the signs, and redistributing them to the less fortunate. Not everyone lives on a high traffic street. Some people are burdened by living in the back woods, and it's about time that they too can proclaim their love for Obama, even if only to the local varmints living in the surrounding shrubs. Another thing I learned is that the rich sometimes need things too. Bumperstickers. Stickers plastered all over their brand new Jaguars, Mercedes, Limousiines, Aston Martins. Imagine the delight if you were to buy an brand new Lotus or Ferrari, come out in the morning and find 10-15 Obama stickers on your beloved car! The suprise and joy I bet an Elitist feels that they can go mobile with their Obama love. They can be a little shy about putting on the stickers, so by all means, get out there, and plaster Obama stickers on any vehicle with a retail value over 60,000.!


Commissarka Pinkie

Chairman M. S. Punchenko
P.S -- You have to give your neighbors permission to "display their Democratic preferences"??
If Kagro X lives in one of those "Deed Restricted Communities" run by "Homeowners' Associations" that tell you what colors you're allowed to paint your front door or how big your mailbox can be, then yes, he may very well be required to get permission from the HOA to put up a sign of any kind, political or otherwise.
Kagro X whines:
Quote:
My neighbors sometimes need "permission" to display their Democratic preferences, even though our Republican friends don't seem to wait for anyone's invitation.

Kagro, how do you know your Republican "friends" didn't already jump through all the hoops required to get permission to put out their signs? They followed the rules; now you're complaining about having to obey your Marxist masters on the HOA Board?
And why are you "friendly" with Republicans? Should those be the kind of people you want to associate with? I would remind you of the credo of Obama's Ambassadors: "Conservative associations spoil Progressive habits."
Methinks someone wants to go for a ride on a choo-choo train!

Opiate of the People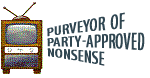 Bah! Kagro is no revolutionary, he is a whiny pusillanimous wimp! NO SIGNS???? Does he not have a bedspread? Does he not have blood and feces? The true revolutionary would use these to MAKE HIS OWN SIGNS!!!! And what about cutting off one's own arms and legs and arranging them to make a giant "O" sign visible from other planets? Is this too great a sacrifice for this coward to make, after all Obama has done for him and humanity? Yes, the Revolution will fail and it deserves to fail if we cannot count on the masses to endure some minor inconveniences for the sake of the cause. Excuse me now while I go puke in disgust.


Laika the Space Dog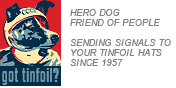 Did I mention that after the failed Revolution of 2008, the Big O on the signs will make for great target practice for the real revolution?

Did I say "failed"?
I meant "nailed".

I hope the Great Dolomite didn't hear me.
I'm doomed.
Great Dolomite, I didn't mean it.


Margaret
I've heard there is an underground organization of right-wing reactionaries that go to Movin'onup.org and other places and place orders for all those free buttons and signs and stuff. Uncle Ka-ching told me about it.