Raum Emmanual Goldstein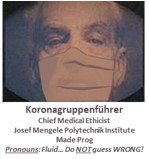 KOMRADES!!!
Illustrious News!!! Our Progressive Democrat March Forward has almost returned full circle.
Our fellow travelers in the BLM movement are managing to re-institute Jim Crow Segregation. Not to be out done, The band formally known as "Lady Antebellum" is progressing our movement even further forward back.
As you will recall, the band formally known as "Lady Antebellum" -- having gone 'woke' about the RRRRRAAACIST roots of their name -- a name buried deeply in the Old Confederate South replete with Slave Plantations hosting over 2 million
Slaves
African Refugees. In an effort to
cover up
repent of their genetic RRRRRAAAACISM, the 'band' had recently denounced themselves and changed their name to "Lady A."
Rather than applaud this admirable display of penance, an unsupportive Black "gospel" (i.e. a Deplorable, bitter klinging "Christian") and blues artist, Anita White -- who previously usurped the stage name "Lady A" -- protested the alleged 'theft' of her "intellectual property."
The Band, Lady A, is now suing the privileged White, seeking
socialist
social justice, formally requesting the redistribution of her "intellectual property." The attorneys representing the band, Lady A, stated in their court filings: "Why should ONE person benefit from a stage name? The Plaintiffs have formed an anarcho-syndicalist commune consisting of three or more persons. It is time to reallocate this intellectual property where it will do the most good for the greater number of people."
The band "Lady A" has now received warm solidarity from Black Lives Matter™ in the form of an
amicus curiae
brief filed before the court hearing the law suit. The brief denounces Ms. White. In their communique, BLM™ denounced her on three counts. First, they flogged her for maintaining her RRRRAAAACIST surname: "White." I mean… How much more RRRRAAACIST can a person be than to proudly call themselves "White?"
Second, BLM Spokesperson and Gangsta' Rapper, Georges Kunta Kente Idi Amin mGabe Ratanga, raised a most damning charge against Ms. White: that she is a Kapitalist Pig -- pointing out that claiming "rights" to owning a stage name smacked of counterrevolutionary
ThoughtKrime
HateKrime™ bitterly klinging to the outmoded RRRRAAACIST dogma such as "Private Property."
Lastly, they accused Ms. White of being a closet Trump supporter. Ms. White's attorneys emphatically denied this last charge. But of course, emphatic denial of such a Treasonous allegation is undeniable proof of guilt.
Judge Emmet "Roland Freisler" Sullivan is expected to pass sentence soon.
Ahhhh… I can already feel the cool breeze blowing through the veranda as we lounge about sippin' Mint Juleps in the wonderful world of Next Tuesday™
VORWÄRTS GEHEN, Y'ALL!!!

Minitrue

Music is cultural appropriation!

Genosse Dummkopf

Minitrue
Music is cultural appropriation! ...
Except, of course, the productions of a queer Lebanese
MOC
*.
* MOC, i.e. a POMPOC - an intersectional Peop of Music who is also a Peop of Color.

Genosse Dummkopf

In other glorious news, the postbellum (modulo WW2) quintet of ax-shredders, known mainly for their attempt to illuminate the dark side of the Moon by means of a prism-induced rainbow-colored beam, will get their "name" (if not existence altogether) purged per an ex post facto ukase.
The utterly shameful, phallohegemonimperially patriarchosexist "Pink" will be kolorifically korrekted to currentruthwise "Black". The cavalierly blasphemous, and currentruthly totally illegal misuse of "Floyd" will be korrektified by ― yeah,
Punish One, Teach a Hundred
, replace it with something truly villainous! ― by a "Hitler". Yeah, "Black Hitler" -
that
will teach the frivolous rascals some prudence and respect in the future!
SI VIS FLOYDEM, PARA BELLUM !
Mystery item No. 1

Red Square