R.O.C.K. in the USSA
Christine Lagarde, managing Director of the International Monetary Fund, announced today that she and others in leadership at the IMF are, in fact, Space Aliens.
Comrade Lagarde, speaking with journalists outside a combined Climate Change and Financial Futures conference at the United Nations building in New York, stated for the record that she and her well known broodmates, Dr. and Mrs. Utopia (the latter also known as Kathleen Sibelius to earthlings), as well as several others in world leadership positions, are from a distant galaxy.
In the unretouched photo above, Lagarde and another, undisclosed, brood member are shown discussing Climate Change and the possibility of seeding financial documents worldwide with nanotechnology-based viruses.
"On our home planet," said Lagarde to the hushed crowd of reporters, "we've had virus-infected currency for millennia, and bringing the same technology to Earth's dollars, yen, and Euros is bound to have a positive effect on
Climate Change
."
She went on to mention that the mean temperature on her home world is -325 degrees Fahrenheit, which led several reporters to ask just what, exactly, she meant by "positive effect". In response, Lagarde simply winked and walked away.

Captain Craptek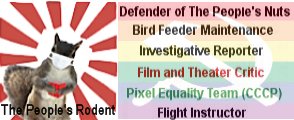 Photo without optical correction -

Dedhedvedev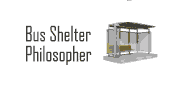 Why are two of them bending over?


ThePeoplesComrade

Dedhedvedev
Why are two of them bending over?
Because in their natural state they slither on their bellies.

Captain Craptek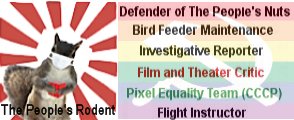 Only a small number of proles are on to this...so far:
Daily Caller
-
"Perhaps most surprisingly
,
only 4 percent of American voters
said they believe shape-shifting lizard people "control our world by taking on human form and gaining political power to manipulate our societies." In the lead-up to November's presidential election, a major satirical expose by Daily Caller editors Jamie Weinstein and Will Rahn, "The Lizard King," revealed that President Obama himself was shape-shifting lizard man."

Lyman DeKoquonut

That white-haired boney creature is not an alien. Aliens are humanoid in appearance.