Peeples Journalist

Spymaster Anna Chapman ousts Alina Kobaeva as Putin Mistress, and Kremlin watchers are playing "Where's Mrs. Lyudmila Putin?"
Confidential sources in Moscow say that
Spymaster Anna Chapman has replaced Alina Kobaeva as Putin's new mistress
. Since Putin's wife, Lyudmila Putin, has not been seen in public for quite a long time, it's was not possible to obtain a comment from her. News reports indicate that she is living in a secret dacha where she's slimming-down and training herself to become a gymnast. A confidential Kremlinn source known to be familiar with her training and progress says she's mastered a number of pretzel positions that will enable her to get Putin in a headlock and hold him prisoner until he repudiates all of his mistresses. According to this same source, Putin told confidential advisors that he first decided to take a mistress after he learned from spies familiar with John Edwards' activites how easily it could be done without it becoming public as long as the media remained in his pocket. Said Putin (at that time): "I have the Russian media almost as firmly in my pocket the Progressive Democrats in America have the dominant media in their pockets, so I'm confident I can emulate John Edwards' success in keeping such activities quiet."
However, after Putin learned what Edwards later discovered --
i.e.
, that mistresses tend to talk to the wrong people -- he found his relationship (and possible love child) with Alina Kobaeva exposed to the public. Having thus become exposed as a "womanizer," he threw caution to the wind by replacing his first (known) mistress with the Spymaster Anna Chapman. But other sources claim he is still maintaining his relations with all three women in a form of Putin Roulette.
~
Here's a photo of Alina Kobaeva in happier times with Putin:
Indeed (
as originally reported by Red Square
) back in those happier times for Alina, whose code-name was "Blueberry Hill," Putin actually sang a love-song about her:
And here's a recent picture of Spymaster Anna Chapman, who boasts that she "always gets [her] man":
--Peeples Journalist

Commissar Wahoo


Neotrotsky

If all progressive looked like that.....

our takeover would be so much easier

A much better "opiate of the masses"


Comrade Putout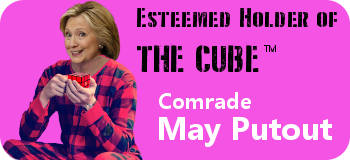 Neotrotsky
If all progressive looked like that...

our takeover would be so much easier.

A much better "opiate of the masses!"
---

Red Square

This People's Cube page was linked in today's Esquire article,
Meet the World's Most Dangerous Women
(slide 2).
Quote:
Anna Chapman

Approximate age: 31

AKA: Anna Kushchenko

Alleged crimes: She was a Russian spy and if she had six more months to carry out her mission, she would have been "the most dangerous spy in American history," says former CIA operative H. Keith Melton. Chapman's job, along with the 9 other spies arrested with her, was to infiltrate upper class American institutions and pass on information to "Moscow Center." Ultimately it wasn't just information sent back to Moscow, but the spies themselves, who were swapped with the Kremlin in exchange for the release of four Russians held on suspicion of spying for the West.

Why she's scary: Chapman's got the femme fatale thing down pat, but alone, she's not going to have anyone fearing for their life. She's sure as hell surrounded by intimidating forces though, including demonic Russian dictator Vladimir Putin, who's

rumored to have carried on a sexual relationship

with Chapman, and a pet lion.



SpyMasterAnnaChapman
SpyMaster Anna Chapman Proudly Draws Attention to the Latest Headline:
Russian Ex-Spy Anna Chapman Launches Fashion Line with Vladimir Putin
Our next line of fashion will compete even more agressively with the Femen Fashion Line, which seems to be gaining popularity in many of our former Soviet states.
Our initial fashion line is called, "Almost Nothing," but the next line will be called "Nothing at All." Soon, all the former Soviet states will want to rejoin Pooty-Poo and me in a New USSR, where everyone will be demanding "Nothing At All."
--Spymaster Anna Chapman