KOOK
Despite the current, IRS/Spying-on-Press/Behghazi scandal-induced temporary lull in the customary News Media adulation of our Progressive agenda, it warms our Collective Hearts to see Staples become Romney's Frankenstein by disqualifying businesses that legally sell firearms from participating in
Staples' "Marketing Contest" for its customers
and thereby equating the lawful sale of guns with the distribution of illegal drugs, "hate crimes," etc.
Now, it's easier than ever to simply push the "Easy Button" for Progressive Gun Control.
--KOOK

Captain Craptek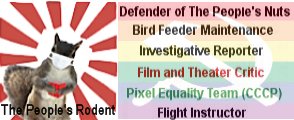 I just pressed my "Easy Button" and it shot Staples in the foot. I guess I'll be getting my office stuff somewhere else.


ThePeoplesComrade

How does Staples determine what is hate or a hate group? Do they have a button for that? My guess is a quick call to the U.S. Government will get you a determination on who is officially and currently considered a hate group. Might I suggest calling the IRS in particular.
We need to clear up some confusion, what with all the IRS, Benghazi and Healthcare talk in the news (the news not currently ignoring these issues). Government is your friend and always has your best interest in mind. Now write that on the blackboard until it sinks in.

What's that Mr. Cohen? You are questioning for some reason?

I guess it depends on your point of view.

Anyer Marx