Karl Marx Treatment Center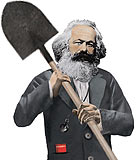 From
The New Yorker
VENEZUELA, A FAILING STATE


Once the richest country in South America, it now has the world's highest inflation rate and is plagued by hunger and violent crime. How did this happen?

Public health in Venezuela is, in fact, getting rapidly worse. In 1961, Venezuela was the first country declared free of malaria. Now its robust malaria-­prevention program has collapsed, and there are more than a hundred thousand cases of malaria yearly. Other diseases and ailments long vanquished have also returned—malnutrition, diphtheria, plague. The government releases few statistics, but it is estimated that one out of every three patients admitted to a public hospital today dies there. State mental hospitals, lacking both food and medications, have been reduced to putting emaciated, untreated patients out on the streets. . .

[Hugo] Chávez propped up the Cuban economy with cheap oil, and in return the Cubans sent thousands of doctors, to help start a network of health clinics. After Chávez barely survived a 2002 coup attempt, the Cubans also sent teams of military and intelligence advisers who taught their Venezuelan counterparts how to surveil and disrupt the political opposition Cuban-style, with close monitoring, harassment, and strategic arrests. . .

The mayor of El Hatillo, David Smolansky, said that violent crime—what everyone in Venezuela calls la inseguridad—is deliberate policy. "It's part of the plan," he said. "This anarchy." We were talking in the conference room of a small clinic, because it wasn't safe, that day, for the Mayor to be in his office. The government was jailing opposition leaders in advance of a planned protest march, and Smolansky had calculated, probably rightly, that he might be next. He is a hulking thirty-one-year-old, with a full beard and watchful eyes. Impunity, he said, made it difficult to fight crime even on the local level. In the first seven months of the year, he said, his municipal police had arrested a hundred and eleven suspects. Eighty-eight of them had been released without charges by corrupt judges. "The government knows it's probably going to need those gangs to maintain power." . . .

You're allowed to queue up for price-controlled items only on certain days of the week, and those days are determined by the last digit on your cédula—your national-identity card. Several people show me their cédulas. They all have numbers that end in 3—that's today. A woman with a parasol says that last week she waited from 8 a.m. to 5 p.m. and went home with nothing. Today, she's hoping for flour and toothpaste. A television repairman says that he arrived at 3 a.m. but decided that it was too dangerous at that hour and left. "The National Guard usually arrives around five-thirty, and security improves after that. The store opens at seven or seven-thirty." There are often robberies in food lines—"They'll even take your glasses," the TV repairman says—and, of course, fights. Full-scale food riots break out sometimes. Many supermarkets have been sacked. . .

Venezuela has, by some measures, the world's worst-performing economy. It suffers from the world's highest inflation rate—nearly a hundred and eighty per cent last year, with projections for this year as high as seven hundred per cent, according to the International Monetary Fund. Meanwhile, the economy as a whole shrank by nearly six per cent last year, and is expected to shrink by between eight and ten per cent this year. Price controls on staple goods, meant to keep those goods affordable and constrain inflation, have instead helped cause critical shortages. Currency controls—established by Chávez in 2003, in an effort to stop capital flight—fix the exchange rate of the bolivar, which is accepted nowhere outside Venezuela, and create a roaring black market for dollars. A dollar is worth about sixteen hundred bolivares at the moment. The official exchange rate for importing essential goods is ten. Between those two figures, the space for financial mischief is effectively immeasurable. . .
Human freedom is the very foundation of civilization. Like a great garden civilization once spread around the globe. Potent seeds of new things wafted the cultural breezes to and from every part of the world. Then came something humanity still has trouble understanding. The animals among men. And now in very short time human freedom and civilization are crumbling all over the world. The very idea of civilization is fading from living memory. The beautiful garden of sublime sustenance and spiritual renewal is slowly returning to wild. The jungle returns to the land and animals rule over Man.

Krasnodar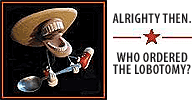 Venezuela failing ?
Admittedly, there is rapidly growing poverty, sickness, violence and loss of human rights.
But it is well worth the people living with these minor inconveniences to behold the glory of a Marxist utopia being fulfilled within " The World of Next Tuesday ".

Communism, hardship and failure are indeed " stronger together ".

( I can't even imagine what our beloved MTE has planned for America ! )


Genosse Dummkopf

... and this was done within less than 15 years, uff.
...
(Commandante, single-handed, 1999..2013)