Broadside

EMBEDDED IMAGE NO LONGER AVAILABLE
Are you ready for the upcoming Tea Parties across the country? Saturday, July 4th, 2009 is the date and it should be huge considering how much more taxed all of us are since the last set of parties.
TEAPartyDay.com:
REGISTER!
Don't Be Fooled:
RAISE EVERYONE!
Michelle Malkin:
TEA PARTY WATCH!

Comrade Whoopie

Yes comrade, I'll be undercover to take photos of all the deviate Rightwingers and their treasonous, unpatriotic and racist signs.

I'll try to remain composed as they stand around roasting the flesh of murdered barnyard animals, drinking beer and belching out greenhouse gases.

That evening, in a drunken orgy of intolerance and hate, they'll be detonating explosive devices to celebrate our founding slave owners.

Oh the humanity!


Broadside

I love the taste of murdered barnyard animals with lots of ketchup. I find that ketchup makes the guilt go away.


Red Rooster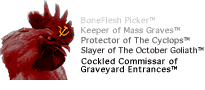 Yummm... I got some proles that suffered Revolutionary Justice(TM) right here....
[center]
[/center]

Commissar_Elliott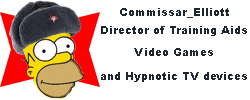 (off)
I don't know what I will do for that day, except of course celebrate the country we live in. I do know this, to all those who are protesting, may we salute you.

Domo
Damn we ought to roast some liberal undercover photographers along with the farm animals. Oh wait they are full of crap and wouldn't be very good eating.


Red Rooster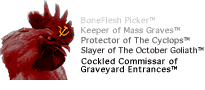 Red Rooster