Chairman M. S. Punchenko

I'm sure many of you are all well aware of the VRWC hit-job taking place right now on poor little old Rep. William Jefferson (D-LA). Yes, I'm sure you're hearing the entire buzz about how he took bribes and all this other crap. Well guess what, it's RACISM! Yes, Rep. William Jefferson is being singled out because he is an African-American Democrat who represents the city that George Bush flooded with water. How do I know this, you ask? I don't. But the facts speak for themselves!
Did you know that Rep. William Jefferson single handedly saved a stash of cold-hard cash from his freezer? Yes, you did. But why did he do that, you ask? I'll tell you why, my friends, he saved that cash so he could save you, the American tax-payer, vast amounts of your hard earned precious dollars. You see, if that money were to be ruined by the raising flood waters (George Bush's fault) that money would've been useless and you would have to pay your hard earned dollars replacing his ruined money. It's true, comrades. And this is why we should be thanking him for his noble efforts and for making heroes out of those National Guardsmen who valiantly assisted him in the rescuing of his money. Better yet, I want you to scratch out the whole National Guardsmen being heroes, we all know they're baby killing warmongers brainwashed by corporations to enslave us all.
Of course you won't hear that story in the corporatist controlled media. Oh no, no, no! They will never ever tell you the truth (unless it's something good about the Party or how many people died today in Iraq. Oh, and poll numbers too, they're honest about that as well). The problem is I don't know why, and neither do you for that matter, why the corporatist media says good things about us while neglecting the truth about Rep. Jefferson.
What we do know now is that this Administration and its rampant infiltration of the media, CBS in particular, is using its power to silence opposition. They knew that they messed up in New Orleans by not providing FEMA Debit cards quick enough, they knew that both the Mayor of New Orleans and the Governor of Louisiana were both incompetent Democrats unable of managing their state and city, they knew that our Party and our associates were secretly stuffing funding for the levees in our pockets and they knew, oh yes, they knew that Hurricane Katrina was a racist and that, my friends, is why this Administration, Karl Rove and their corporate allies directed Katrina to wipe out New Orleans and that is why they are making Rep. Jefferson the patsy in their dangerous game of weather rigging!
How dare they! How dare they try and fool the American people into believing that our Party, our sacred and benevolent Party, is a collection of insane, unwashed, down right dirty and vicious thieving liars! How dare they do that to us! Sometimes I wonder if there is a Darwin, I know, it sounds crazy to say such a thing, but I really do. Sometimes I wonder if there is still a U.S Constitution guaranteeing us the right to abort kids, take your money, dumb down your kids (the ones you decided to keep) and allow us the power to send ATF agents to firebomb your residence. Yes, these questions elude me when we have an Administration with no regard for the truth or the law. These questions, these very important and pressing questions, are being ignored right now while Rep. Jefferson is forced to feel ashamed about his actions, his noble and courageous actions on behalf of the American tax-payer. He did it for you and your family; he did it for The Children™. Remember that the next time you go to the ATM.
We, the collective of true and noble progressives, are with you tonight, Rep. Jefferson. Please, comrades… join hands with me while we sign a song of praise and of hope for Rep. William Jefferson…
"
Well we're movin on up,
To the east side.
To a deluxe apartment in the sky.
Movin on up,
To the east side.
We finally got a piece of the pie.
"
- Meowsevich S. Punchenko
Chairman Meowsevich S. Punchenko is a permanent fixture at The People's Cube who feeds off of other people's success, wealth and creativity to advance his own selfish goals. He is also the president and dean of Punchenko University and the founder of the Parade of Victims Coalition for Mutual Trust, Hope, Money and Entitlement Programs (PVCMTHMEP).
Today's selection from the Caucu$ of Corruption was brought to you by: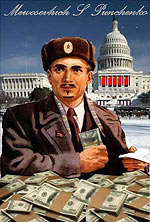 Coke, hookers and booze in a festive and family-friendly atmosphere!

Branish
Chairman Punchenko, this is truly the most open minded piece I have read in a long time. Your analysis is truly dead-on. We all know that Bush and Rove and the evil KKKristians cranked up their hurricane generating machine specifically to target Louisiana and missing the neighboring states (of course they did... the Gulf states around the Peoples' State of Louisiana are backward republiKKKan states!).

The targeting of Congressman Jefferson does us a large favor, as well. We can use this as another scare tactic on minorities into supporting us forever and ever. We have successfully exploited minorities for votes for decades, while never having to explain why our policies keep them in poverty stricken inner cities.
Now we can say, "don't think of voting for repuglikkkans, remember what they did to William Jefferson?"

However, I too am worried about the state of the U.S. Constitution. After this week, I'm not even sure if it protects the rights of illegals to come here while violating Amerikkkan laws and demand free healthcare, education and benefits.

Now I must be off to stash my life savings in my freezer, in a show of defiance and solidarity with Mr. Jefferson.


Chairman M. S. Punchenko

New Orleans is special, comrade Branish. You see, New Orleans has an entirely different culture, a colorful culture, a culture that openly embraces ethical forms of corruption. Rep. Jefferson was indeed engaging in corrupt activities… but only because that is the cultural norm in his hometown. And who are we, or more importantly, who does this Administration think they are to judge someone from a different culture? Who are they to say what is right and what is wrong when stealing other people's money and paying off foreign leaders is the accepted norm? I'll tell you who they are…. They are The Man. Yes, they are Jim Crow, KKK, and the Nazis trying to take away from those who make their money in an as equal ethical manner as working for it.
This Administration's judgment (because we know they're behind this) against this noble man is completely racial and based on a fear, a soul consuming fear, of other people's culture. And before you know it, comrade Branish, they will come for your stolen money and my stolen money! They will come for the union dues and the gifts. They will come for the bribes and the kickbacks that you and I enjoy on a daily basis. And before you know it, before you can take a good crap on your solid gold toilet, they will come for you, comrade Branish. They will send in their jackbooted federal agents into your home to raid all the things that you acquired in an equally ethical manner. Your drugs, gone! Your cash, gone! The hookers you're pimping out of your D.C townhouse, gone!
When does it stop? I'll tell you, comrade Branish. It stops when we take our country back from these law and order fascist and when we get this country on the right track, the ethical progressive track. Its when we tell the American people that it is A-OK to break the law because we, the chosen caretakers of America, are here not to judge you for your ways… because we know we are all ethical team players trying to do what is right. And what's right is stolen cash, hookers and copious amounts of illegal substances for consumption.
We will not judge you… period. Its time to take our country BACK!

Father Prog Theocritus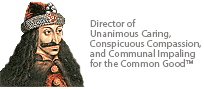 Congressman Jefferson is merely an apt student of
Governor Edwin Edwards
, unmatched in the Bayou State since the Kingfish himself. Edwards remarked before his last run for governor, "I'll be elected governor unless they catch me in bed with a dead girl or a live boy."
And he was. Unfortunately the evil feds, who no doubt had some RepubliKKKans among them, tapped his phone and obtained tapes of things that he did not say and to this day he is in federal prison.
I have hopes for Jefferson; I have told him the reason for Edwards' downfall: he held out on me.

Chairman M. S. Punchenko

Huey Long... we miss you! Now there was a progressive that the youth could look up to! To this day the Kingfish is my hero... he makes me look like a choir boy with his excellence in the field of corruption. He was a Democrat's Democrat... let us never forget that!


Teddy K.

Ah yes, Huey. He taught me so much, so much. And I pray to him every day, after my second bottle of Scotch. Just think how far he could have gone if he had been asked by FDR to clean up the stock market like my father. Now it is utterly untrue that FDR said, "It takes a cook to catch a crook."

Daddy was not home all that much during those times but boy did we live well. And all that lovely stock!


Chairman M. S. Punchenko

Alright, someone get Ted's keys off of him. We don't need anymore embarrassment this week... or next week... or next year... or, hell, just get the idiots keys! Ted, sit down before you knock another staffer into your morning cocktail... we don't need anymore staffers drowning.


Teddy K.

Ah, you're no fun..weaving and spilling Scotch in a priceless rug owned by someone else...Chris Dodd and I were just going to play sandwich with those pretty waitresses! You you two chicks! Come over here!

You, oh, there's only one of you...Just a second..the room is starting to goaround on me. Goddamn it, I must be getting old, only four bottles and I need to sit down. And why are my ankles that swollen? And that subcutaneous bleeding in my nose? Do I smell ammonia?

Pour me another one. If my liver goes, I'll just buy one off someone who won't need it, but he may not know it yet. After all, what's the use of all that lovely money that Daddy made rum-running if I can't drink all I want to.

..singing.
Come along with me, Lucille,
In my merry Oldsmobile.
...hey you! Where's that little motel, you know the one I mean, the one at Chappaquiddick?...

Mary Jo, are you gonna be nice to me tonight? Pour me another one.

No, goddamn it, my brake lights aren't on. That's my FACE, you Republican moron.

...falls over passed out.


Premier Betty

And the gaseous after affects of that drinking could probably power several thousand cars too.


Father Prog Theocritus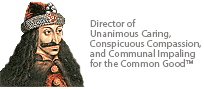 Let me welcome Teddy K. to our pages. Senator, let me be the first to admit that I have a picture of you in my bedroom. Not with the pictures from Gold's Gym that were taken by the peephole camera, but as my idol. Beefcake I can buy; cheesecake I can shoot; and my S&W 1006 lets me decide which way I'll go.

But you have shown me the way. After all, you killed a woman while shit-faced drunk, and managed to swim to safety! Just think: with you as a swimming coach we would never run a risk of running out of captive voters. All of Costa Rica would be in Arnold Schwartnegger's Governor's Mansion.

And you might understand them too, without them learning English! When you're on a roll, after a case of Kennedys in the Canadian Mist, and no one else can understand you, I'm sure that you are hearing other things.

Welcome, Senator, my idol.


Chairman M. S. Punchenko

He's passed out, Theocritus... He can't hear you. Open a bottle of scotch, that might get him to sober up.


Teddy K.

Now, now, Old Teddy isn't passed out. I was just a bit, uh, overexerted. I had a flashback of that time in the Kennedy Compound in Florida when my nephew William Kenneth Smith had a little fun with that Patricia Bowman. After all, doesn't she know that when she speaks to a Kennedy she's given her consent?

But she was a sweet one, that girl. Those boobs and I could see her camel toe--thought she might have had two of them but Jorge hade the Whiskey Sours they serve with the Eggs Benedict strong that day and I did a little more than my usual half gallon of them, and since I was feeling pretty good before we went down to the bar, I decided I didn't want to go with the booze dying in me.

Where was I? Oh. That Pat. She still gets me riled up, you know, and so I put my hand in my pocket and fell off the chair. Didn't spill my drink, though.

It took me a few minutes to get up, damn this age, but there's still fire down below! So I had to go shower and change my pants, and smoke a cigarette, too. Don't you, first thing after?

So I'm back. Where's that Cabo Wabo tequila? Bonnie Fwank tells me I ought to walk the other side of the street once in a while, but he tells me he doesn't want me on his street, something about decreasing the property values of his Georgetown condo where his boyfriend ran that rent-a-boy service.

Never did like Bonnie that much, though. I tried to get him to branch out for me and Chris Dodd but he said that no, there were some things that even he wouldn't do.