Superkommissar Maksim

Big Hollywood
contributor
James Hudnall
and Batton Lash created a comic strip that was inspired by the image below. Which was inspired by a transmission from
Laika The Space Dog
. So head
over there
and if you're inclined to do so leave a comment.

Red Rooster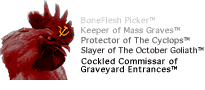 Once again Superkommissar you demonstrate why you are the Superkommissar of The Cube!

Hail Superkommissar Maksim!


Comrade Whoopie

What's the world coming to when conservatives start stealing from Progs? "Inspired" my ass, that's just a capitalist code word for "I stole the idea" from some downtrodden worker.

You see? This is why the People need us to protect them from being exploited. Let us steal your ideas and rest assured you're getting a fair shakedown.


Fraulein Frankenfeinstein

BRAVO!


Ivan Betinov

I saw that while trolling through the Right-wing hate sites looking for right-wing hate crimes, and thought at the time that it looked familiar.