Father Prog Theocritus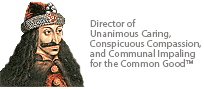 The doorbell rang, and Bruno as usual ran, trippingly, to get it. He opened the door and shrieked, "Theocritus! It's that oily son of a bitch with the big nose! The smarmy fat one from Florida, you know, the man who had a beard that looked like Rosie's muff!"

"Bruno!" I yelled, "That's Al Gore! Shut up and let him in!"

I ran to the door and knocked Bruno out of the way. "Mr. Vice President," I purred. "Mr. President Who Should Have Been," I bowed. "Your Holiness."

"Thank you, Theocritus, thank you. But make sure you aspirate that 'Holiness'; we wouldn't want His O'liness to get upset."

Bruno started sniggering. "The last time that Theocritus aspirated anything it was his wine when Hillary came out of her room in a string bikini."

"Bruno! Show some respect for the Holy Gore! For he has come to lead us!" I turned to the Cheated President. "To what do I owe this honor, O Primate of the First Church of Climatology?"

"Theocritus," the Holy Gore said, slumping more than you would think he could, considering he has a baseball bat up his ass, "I just don't know what to do. You know that I cancelled my appearance at Copenhagen..."

"And we don't know why, O Holy One. That would have been the friendliest audience that you'd ever had. There all of these people would be, people that Luddites would look down on, and anyone fool enough to quote real science would have been thrown into a canal. Why did you cancel? Even you couldn't have said something too stupid, hypocritical or dishonest."

"It's not that simple, Theocritus. In 2000 when I hired a Daley to steal, er, see to the proper counting of the ballots in Florida, and I still was not elevated to the position that I was born to inhabit, something broke in me. I mean, it's the Divine Right of Gores to be President. I just couldn't live without telling people what to do and even the stray cats were laughing at me. And so I became the Primate of the First Church of Climatology."

"See? I'm cool! I'm with it!" With that he started clapping his hands, or trying to. He kept missing.

"Al, er, Your Holiness, I think that we get it."

"And since I created an industry, don't you think that I ought to get paid for it? I mean, if it hadn't been for me, those bozos at the University of East Anglia would have spent all their time sending snarky emails back and forth. But since I came along, they're important now. Without me, they'd have been doing research papers on which sort of paper clip is most effective.

"And I gotta admit. I'm running out of money, Theocritus. I have two Gulfstream 5 jets with four crews. I have a limo in every major city of the world. I've even hired someone who has read Tolstoy to spell my daughter's name right. But that big old house doesn't run itself.

"And I told the people in Copenhagen that I'd be glad to give a speech, but I wanted a 10% royalty for it."

"A 10% royalty, Your Holiness?"
~
"Yes, of course. What's the matter with you? An agent gets 10%, doesn't he? So I ought to get 10% of that $160 billion that the rich countries are going to give to the poor countries--you know, those places that are as much fly-over as Texas--every year. That way I can afford to have my own 747s so I can be comfortable when I give my speeches. And I can have SEIU goons make sure that people clap when I want them to."

"But, Your Holiness, isn't that money supposed to, er, help the poor countries?"

"Theocritus, I wish that you'd wake up. You're a progressive. I'm a progressive. There is nothing outside of being a progressive. You think that I care about mud huts and natives? Fuck the other people. I want my money. And if it weren't for me, all those people at GE would have to do business as usual. And the Climactic Research Unit would have to do real research instead of rolling in bales of other people's money. And I don't see why I should suffer. After all, I've been on Larry King! That's on CNN, you know!"

"Al, er, Your Holiness, Larry King is on CNN prime time and is in the toilet. Like all of CNN prime time."

"Theocritus, Larry King calls me Al! He asked me if I'd run for president! Now I had to promise him one of my old limousines if he'd ask me that, but he did, and I said I'd run. 'I'm 59! And 59 is the new 58!' I did, Theocritus, I did! I was on Larry King!"

"Al, thanks for sharing. I didn't know Larry King was still alive."

"Oh, he is. 59 is the new 58! You know that was going to be my motto when I run for president."

Bruno piped up. "Theocritus, your computer gives you error messages more interesting that this. The instructions on your Japanese spiral slicer were thrilling compared to this."

"Quiet, Bruno! This is the Holy Gore!"

Bruno sniggered. "Yeah, that's right. Hey, Al, will you dance The Macarena for me? I'll let you have some of my platform mules."

Al started to fugue. "The earth has a fever! 59 is the new 58! Tipper is so stupid she can't get the name of a Tolstoy character right! I'm holy! I know everything! I am worth $16 billion a year just because I'm Al Gore!

"I want my money! Global Warming is my lie and I want to be paid for it!"

With that Al started foaming at the mouth and fell onto the floor. Bruno and I looked at each other, rolled our eyes simultaneously, and dragged him into the bedroom of Our Many Titted Empress, and locked the door.

Al will not be going to Copenhagen.
 


Red Rooster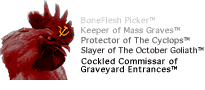 One less tiny Footprint for the giant Footprint of Copenhagen, but more soylent green for the green machine!

Bless your ashes, Holy Gore.


Father Prog Theocritus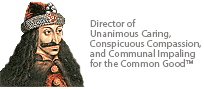 RR, I do wish you'd come here again for a visit. It's very troubling to have the Holy Gore sobbing in our MTE's bedroom. I keep trying to buck him up, you know--what else can one mad prog do for another? But when I start to list his accomplishments, the words stick in my throat.

I can talk about all the things that the cockroaches have done, and the nano Jimmy Carter rabbits, and even the talent-shitting pigeons, but the Holy Gore's accomplishments?

Please help me here. And don't tell anyone that there's not a single thing that the Holy Gore has done that is worth doing and that he's the biggest piece of shit on the face of the earth.

Fraulein Obamski
I feel a tear rising up for the holy Bore... holy Gore. He's been cheated and needed and ignored far too long. He IS the heart and soul of a country song, is he not!
. . . let's have a moment of silent adoration for our Gorey church meister.


Btw, did I hear that Gorey was using bin Biden's Plug Meister for a new re-do of his do? Glorious!!


Leninka

The Goracle must lay low. Laying low always works well. It has worked very well recently for Comrade Nanski Peloski after she tattled on the CIA.

He must avoid questions from pesky reporters at all costs.

However, it was wise of His Goreyness to pay a visit to the Rancho. Perhaps the nano Jimmie Carter rabbits or the talent pooping pigeons can come up with a way for him to show his face to the world again. Maybe the best chance is for Bruno to give him a complete makeover. And bring former Dear Leader Clinton in for intense denial training. Nothing quite like the distraction of wearing shiny things combined with out and out denial of the facts to get you through a difficult scrape.

In the meantime, he can set his minions to the task of turning the public against the hackers who revealed the e-mails in the first place. And then, they can make it look like there were just a few rogue scientists who were really just joking with one another.


Father Prog Theocritus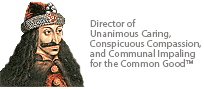 Fraulein, the Goracle tried to use Mr. Biden's hair-plug specialist but the good doctor said it would be like trying to rivet a girder to an egg.

Leninka, Bruno once did try to give the Holy Gore a makeover. The problem is of course that he is so stiff. You've seen him dancing the "Macarena"; you've seen the time that the black woman grabbed his hands to show him how to clap in time to music. It's the stiffness, you see.

Bruno instinctively knew this when he tried to get the Holy Gore to dance to "Tico Tico," he wondered what the problem was. But when he found that that the Holy Gore had a baseball bat up his ass, Bruno shuddered and tried to back off.

I insisted. "Bruno, it's your duty to help the Holy Gore. Limber him up. Take out that baseball bat!" I gave Bruno a glove that vets use for inseminating cows, and told him to take out the baseball bat.

"No, Theocritus! I don't want to!"

"Bruno, it's your duty to the Primate of the First Church of Climatology! Even if he is a complete and total fraud! Especially because he's a total fraud. He's a Mad Prog, you know! Do it! If you don't I'm going to Cuisinart your Judy CDs!"

And so he did take the baseball bat out of the Holy Gore's ass. And the Holy Gore couldn't even stand up.

There's just no winning some days.


Commissar_Elliott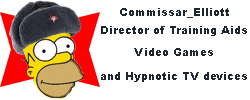 What?! I had my Party-approved telescreen TiVoed for his glorious arrival in Copenhagen. I also had caffeine shots and OTC wake-up pills ready just so I wouldn't miss a think as he was giving his speech.

Now what am I going to do?

(off)
I find it funny how the hacker exposed the lie, Gore canceled his trip, and Congress can't use "Global Warming Climate Change"as an excuse anymore without risking votes (Yes, I'm aware there are CC denier deniers.)


Father Prog Theocritus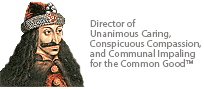 Elliott, as of yesterday the Legacy Media had been doing yeoman duty in completely ignoring those unfortunate emails. There is good hope that it will all be swept under the rug for there is too much invested in keeping the goddamned lie truth alive.


Commissar_Elliott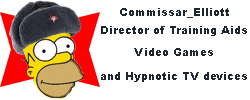 Commissar Theocritus
Elliott, as of yesterday the Legacy Media had been doing yeoman duty in completely ignoring those unfortunate emails. There is good hope that it will all be swept under the rug for there is too much invested in keeping the goddamned lie truth alive.
Not to mention the businesses which rely so heavily on its survival. If even parts of those businesses tanked, unemployment would go up, and Obowma (another great insult by the way) has promised to create jobs to fight this unemployment. Which reminds me, where are they (sarcasm)?
Just as the sign said at one of the protests "The media is suppose to be a watchdog, not a lapdog."

Father Prog Theocritus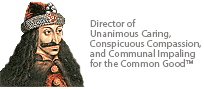 Someone once said of a reporter that he was the only one in the Washington press corp who didn't spend his time in leg-waxing parlors or the Sharper Image. That sounds like O'Rourke's sort of snarkiness.