Kommissar Uberdave

Source: AP Photo/Susan Walsh:
Here we go again. Four years of attacks by leftists calling Trump the "Cheeto Messiah" or some such nonsense, but just look at this picture, eyes closed and hands clasped as if in thoughtful prayer. Then the icing on the cake, the Great Seal of the Office of President Select forming a perfect halo around Joementia's head. Where have we seen this before? Just damn.

Chairman Meow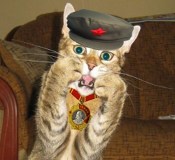 $.$. Halliburton

Saint China Joe


jackalopelipsky

Do not forget Joementia's pre-cusser, President Bill Clinton and his cross of stones on Omaha Beach - not located in Omaha, but is actually located in France where they don't speak German, but they would if told to.
That was a real D-Day assault of political symbology.
CLINTON 'PHOTO-OP' WAS A FRAUD

ThePeoplesComrade