Commissar_Elliott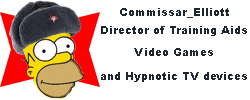 The newest Party Approved toy, it will be in every home by December. If you don't get one the day it comes out, you could be sent to the gulag.

At the :39 mark, it gets into some funny type of "Freedom" speech from some obvious G.W. Bush supporter, so those who are sensitive to this kind of stuff should stop at about that time.




Marshal Pupovich

Excellent Comrade Elliot! It is hard to imagine a more worthy gift the state can provide For the Children™!
Speaking of terrorism. I have been doing tons of reading on the subject lately, and I confess, I learned one thing that I never had thought or before, nor had I ever seen anyone else mention, but it does explain a lot of what we see in regard to Pakistan-jihadi connection, and the oft noted "lawlessness" of Pakistan borders. The real player in Afghanistan for these many years is the ISI, the Pakistan intelligence services. They are both the funder and enabler of the various groups that fought the Soviets, and continue the jihad against the west. But it is not all because the ISI or Pakistan is pro-Islamo terrorism. In fact, while in fact there are many higher ups in the military and ISI may on the surface seem to be Islamists, in the evening they go home to a life style far different from the sort practiced by these Islamists. Pakistan plays a dicey and dangerous game. On the one hand, the government and it's organs fear the Islamic jihadists as they are well aware of the danger these groups represent to their society, and Pakistan has historically been a more secular form of Islam. They have also joined in with us to attack, and prevent some of these training camps etc, But, and this is the part I had never known of considered. Pakistan has also supported the Arab jihadists on anther level, not as w way to bite us in the US etc, but for their role as a weapon, a deterrebce to their long time enemy, India. They know from experience what the Holy Jihad did against Russia, and so they also use them to forment trouble in India. A most tricky balance.

Ivan Betinov

Pup, I left a note for you in the Bunker under "Great Video."


Commissar_Elliott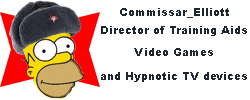 Ivan Betinov
Pup, I left a note for you in the Bunker under "Great Video."
Comrade Ivan,
As much as it is everyone's video, I was the one who brought it to light.

Red Bubba

Marshal Pupovich
I have been doing tons of reading on the subject lately, ....
Very dangerous comrade.
Quote:
..., I learned one thing... .
Wouldn't you rather just go to the nearest Obama revival/rally?
Very dangerous indeed.

Marshal Pupovich

What? Is my cone of silence leaking?