Marshal Pupovich

Obama Jokes at Jobs Council: 'Shovel-Ready Was Not as Shovel-Ready as We Expected'Comrades! This is so exciting! The Obama has expanded into comedy television! Move over Conan, get out the way Daily Show! Now this is the sort of good entertainment that we love! Recovery Summer II has hit the movies, and now Red Obama has started killing the audience on TV!
http://video.foxnews.com/v/991352947001 ... l-economy/

Sugar Daddy Bear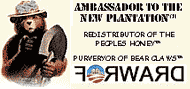 Why the hell was shovel-ready not "shovel-ready"?! You see me holding my shovel, right? Does this look like a friggin' joke to you? No it does not! My shovel is willing and ready and we have big-eared clown telling us otherwise?! What the hell is this?

And what's up with this "President's Council on Jobs and Competitiveness"? This must be the real punchline: "Snow jobs competing with blow jobs". Why, I oughtta...


General Confusion

Whinny,
Your thought pattern is impeccable!

His council sounds like a daisy chain to progress. This "Government Council" is not about jobs or competitiveness. That was the title awarded by the Committee Concerned with Congressional Committee Naming and appearances.


El Presidente

My name is Mud!

Marshal Pupovich

Comrades!

I am full of remorse right now. I was out riding earlier and I was nearly overcome with grief. Tears fell from my eyes when I realized that I have made a grievous error!

Comrades, I renounce myself in the most equal of equals manner! No Kommisarka, I refuse to submit to a Show Trial, I am not seeking any promotion as you so frequently accuse me. I refuse the Honor!

But I do renounce myself for this reason. I neglected to mention that the man on the right of the Obama was no mere sidekick, no, that man was the CEO of GE! This is the man who has led his company to receive over 40 billion in subsidies and managed to not pay back even a single cent in return! All the while leading us bravely into the future of electric cars and led light bulbs (not to mention that at near $50 a bulb for a hundred watts will set new records in progress).

Clearly this man is a Hero of the People and there I was suggesting that he and the Obama where laughing about the shovel ready jobs not being shovel ready enough! No! They were laughing over the triumph of progress over capitalism and common sense,

So please forgive me comrades. I am going straight to the local Jiffy-Lobe for the People's Special.


R.O.C.K. in the USSA

Comrades, we must never forget that Dear Leader is GOLF CLUB READY! Why, just yesterday Her Highness Michelle told a group of worshipers "He reads every word, every memo, so he is better prepared than the people briefing him," she said. "This man doesn't take a day off."

I've always known that the teleprompters were just a prop - plus, they help the stage crew to read along with Dear Leader, since his words are so above them.

And as far as being Golf Club Ready - like Her Highness implied, every minute, every SECOND he is playing golf his mind is churning over the needs of the world, the needs of companies like GE, the needs of The Important, dear comrades. In short, he is planning how to spread the wealth around!


Comrade Loaf

Red Square

Did you say "killing audiences?"
We've been given a sneak peek of this at the beginning of the first season...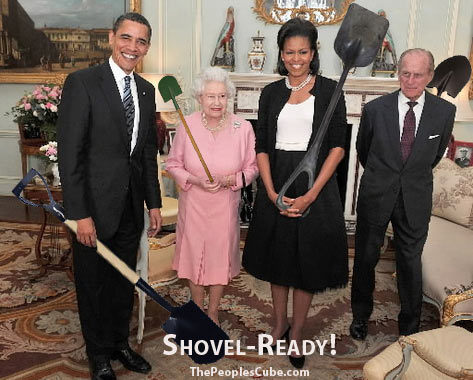 R.O.C.K. in the USSA

I would SOOO get my grandmother one of those cute little green shovels, were she not deceased!

WAIT! Maybe I'll get her one anyway - after all, there's nothing that says she can't vote!!