Dr. Strangelove
We must capture and imprison this nonperson Crowder thought criminal agitator before he spreads this contraband humor among the masses like a disease:
The Obama Song (Official Version)
~
Joe FREAKING Biden (Featuring Rainman)
Pee-Wee's White House
Guns, Guns, Guns! (Featuring Michael Moore)
Torture and Gitmo
"The Dark Pelosi" (With Waterboarding!)
Abortion is SUPER FUN!!!
PETA and the KKK (Featuring Tom Cruise)
Happy Prayer Day! (Featuring the ACLU)
DRUGS ARE AWESOME!! Socialized Healthcare Sucks.
Illegal Aliens! (Featuring the Jimenez Brothers)
Silly Canadians! (Featuring Jean-Pierre Lafitte)
Dr. Strangelove
Direktor of Flashing Lights, Shiny Things, Bobbles, and Cinematography
Ministry of Agitprop
"Gentlemen, you can't fight in here! This is the War Room.

Colonel 7.62

So much thoughtcrime going on here. So very, very much going on here... Much to do, much to do.


Lt. just_a_car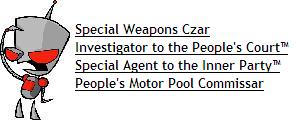 Someone needs to notify a Commissar or O-Brown Shirt and have this man reeducated!


Colonel 7.62

Well the Good Doctor is an Inner Party ™ member and I'm an out of control revolutionary who's assault teams keep blowing themselves up AT THE THOUGHT CRIMINAL COMRADE JOE'S HOUSE, so I'm guessing you are volunteering for the mission Comrade just_a_car? Good. Grab your People's Rifle(TM) and warm clothing. Also if you know anyone who can shoot an RPG without taking off their own foot that is a plus too.


Lt. just_a_car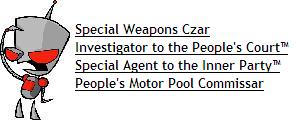 I have both People's Rifle™ and warm clothing ready, like any good Subject of the United Socialist States of Amerika should have!

Now where did I leave that mason jar of Baba's borscht?...


Colonel 7.62

Borscht? You will surrender borscht to the supply officer who will redistribute it to the officers. You will eat gruel thickened and flavored with reactionary denouncements which I get every day. Plenty of fiber in the diet yah Comrade?

We will now go after the Thought Criminal Crowder as soon as the railcars get here. (And the rails are laid for the rail cars to move on. Does anyone have a track laying machine we can borrow?)


Lt. just_a_car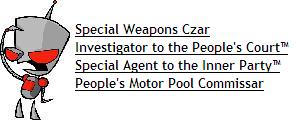 Is Baba's borscht... made from beets grown on People's Farm. Beets were redistributed and we received about 1/500th of our meager crop, from which borscht was made; is properly distributed borscht.

Gruel is delicacy for beet farmers, so we must denounce it for The Party™.


Colonel 7.62

Mmm you are treading on thin ground Comrade just_a_car. Gruel is standard Party Approved(TM) food, especially when mixed with paper, sawdust, or other organic prog ingredients. On the other hand if Baba's borscht is already properly redistributed beets allocated in an appropriate fashion... but cheer up! If you are to be with the Guards, you get better food for you do different job. To each according to his needs, etc... As a made progressive getting ready to wage glorious Revolution your needs have increased. Greatly.

Now about the Criminal Crowder. Perhaps an airdrop? We have airfield, no?


Komrade Zarkof
Colonel,

Please, don't forget this Comrade's supplemental People's Tasty Creme(TM) ration. It will reinforce his appreciation and loyalty to The Party,™ The Children,™ and The World of Next Tuesday.™