Commissar_Elliott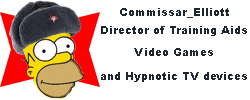 Greetings fellow comrades,
I remember not too long ago, there was an article, and in it, some comrades mentioned a joke about the "Obamatrix" or Obama Matrix in other words.
---
(Movie pitch)
This summer, the truth will be reveled about the past eight years, and what an illusion it was. What if, 9/11 was a CGI? What if your money wasn't real, and what if, this was all a fantasy?
Joe Biden, George W. Bush, Hillary Clinton, and introducing Barack Obama, in his most fictional role yet, Morpheous, in "The Obamatrix".
See Morpheous' struggle, to show the people of America the error of its ways, as he searches the Obamatrix for the One to succeed him, should he fail. . .
Be amazed as Trinity (Hillary) struggles to find herself, as she is trapped between her love (snicker) for her husband (snicker again) and her new job as Secretary of State, but she holds a deep dark secret which could threaten Morpheous' mission.
Joe Biden, as Neo, the one Morpheous will find, train, take under his wing, and bring into the Obamatrix to save America when his term is up.
George Bush as Agent Smith, Morpheous' arch enemy of the State. He is the one who controls people's lives, by rewritting it. He is the one who has conspired to keep the people in check, and he is the one Morpheous must defeat if he is to lead the people out of the Obamatrix.
Special guest apperances by Oprah, as the Oracle (I could sub Algore in here), Senator Robert Byrd (D-WV) as the Architect, and introducing for the first time, Sonia Sotomayor as the judge of the Council.
Directed, edited, and and produced by comrade Michael Moore
Michael Moore
Watch my movie. It's about me.