Evil Smiley

We have now had ample time to see Dear Leader traveling about the globe on his various apology tours.
During this time he has demonstrated a wide variety of bowing and kowtowing techniques.
This guide is designed to assist those of you who are unfamiliar with the art of diplomatic kowtowing and various surrender rituals.
The above chart shows the various positions of official bows that Dear Leader has been observed executing.
The chart below, includes some of his domestic and private bows that he has been known to perform as well.

Evil Smiley

It should be noted that he has not yet appear to have mastered the bow at the 12:00 position as he has never been observed performing it in public.


Evil Smiley

His latest bow.

Evil Smiley


Evil Smiley

The final version of the updated Obama Bow Guide to include the new ones he has been performing for the Cuban Communists.

Chairman Meow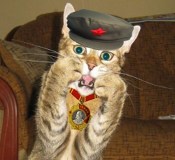 Evil Smiley

Obama is really an acceptional President.

Evil Smiley

Obama really is the most flexible President. He promised Putin as much, he delivered.What's a little bow among 'friends'?

Evil Smiley

Obama after demonstrating his flexibility to Fidel Castro. Fidel used an especially large cigar when testing Obama's flexibility.