darski

http://www.cbsnews.com/8301-503544_162- ... 03544.html
How can it be possible that our very own MTE is going to let us down in 2012?
Could The Party ™
please explain the subterfuge that is being perpetrated in this article. Surely this cannot be Current Truth ™ .
by 2020 she will be verwwy, verwwy old.

General Confusion

Comrade Darski,

My grandson is asleep in the same room, so I cannot listen to the SeeBS video.
Maybe you need to have your vision checked. Any recent picture will show, she looks vewy, vewy old right now.

If she survives, she will be 70 and have diminished energy for the campaign trail in 2020,
she may not even know what that is by then.


Comrade Whoopie

Our beloved MTE is merely dispensing the current truth which of course is subject to change as 2012 draws near.

Hillary's honesty is only surpassed by her unwavering loyalty.


General Confusion

Comrade Darsky.

If fully 1/3 of the democrats will vote for her, that will leave her map very similar to map of last Tuesday. She will need to find her husband's supporters and generate some of her own as well. Hers will not be as meaningful as his. Looks like too much hard work for MTE, she could pose for Playboy showing all her attributes, or try to sell herself on the speaker circuit.


Krasnodar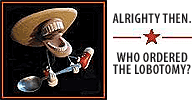 Darski within the borders of the Canadian places .....
" The Hillary " has one goal :
The Presidency.
Nothing else will suffice.
The MTE is a master chess player....patient and cunning, something like Shelob.
She will bide her time as SOSUS until Obama becomes increasingly weakened from battling the new Congress. I believe she will enjoy watching her party getting knocked around for awhile.....call it payback for picking Obama over her in '08.
When.....and only when the timing is right, say in later 2011, she will capitalize on Obama's growing list of failures, forcing the Democrats to concede that he is a liability... They will then plead with her ( she'd like that !) to assume the position as their "new" leader......which she will accept, and in turn run for President in 2012.
This is only a scenario....maybe.....maybe not.
But rest assured that her announcement of not running is just the beginning of her game.
Krasnodar out.