Imperatorskiy Pingvin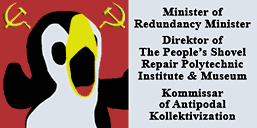 Comrades, we have a problem, one which we simply cannot blame on Trump, no matter how we try. The only thing that all the previous, failed attempts at not-real communism ever produced which actually worked was the AK-47, and our
dupes
fellow travelers
liberoprogressive comrades in the West still hate it, which we
assume
have determined is the reason for the relative unpopularity of Marxist Truth™. However, after
drinking until our livers imploded
conducting exhaustive research on the topic, the Ministry of Redundancy Ministry has determined that everyone likes alcohol, except for some religious and/or health fanatics who we'll probably have to liquidate anyway, so we left them out of the official report.
As I was saying, everyone
that matters
likes to drink, and as we
stumbled around the office half-naked
poured over our findings the deputy Minsters of Redundancy Ministers and I realized that the solution to our dilemma has been staring us right in the face all along. Therefore, in conjunction with the Ministry of Agriculture's Tractor Storage & Maintenance Directorate, we are pleased to announce that we're going to start selling Ivan's Tractor Barn No. 2 Beetroot Vodka™ as an irresistible exemplar of the superiority of Socialist Labor™. We'll be marketing it as a premium, upscale brand priced for the toiling, lumpenproletariat masses at $10 per bottle. At this price point, even our most
conservative
cautious projections
have everyone so drunk that they won't notice when we take over
predict an improvement in our popularity so yuge that we'll run the table in the upcoming American elections, and we'll see the arrival of Next Tuesday™ by the end of March at the very latest.
If you're worried about shortages here in the Mother Collective, don't be: The Ministry of Agriculture has revised Ivan's production quotas and, as our resident Stakhanovite, we're confident he will exceed them. Otherwise, his local commissar has his coat and shovel ready.
Comrades, raise a glass of Ivan's finest and rejoice, for the Glorious World of Next Tuesday™ is within our grasp!
---
---

Ivan the Stakhanovets

Yep. Somebody ought to tell old Ivan that his quotas have gone up again. Poor bastard won't last long at this pace, wait till he sees what's coming!

Pass that bottle back this way, comrade...


Imperatorskiy Pingvin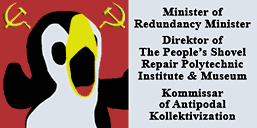 Ivan the Stakhanovets
Pass that bottle back this way, comrade...
The bottle's about empty, comrade; time to tend to your beets. From you according to your
limited
ability, to us according to our
unlimited wants
needs!

Comrade Otis

The Trotskyites have Netroot Nation, which will always be nothing but a sick joke. We Stalinists offer what the masses crave: The Beetroot Nation!